Exclusive
'Perjury' & 'Fraud'? Linda Hogan's Lawyer Threatens Action Over Hulk Rants: 'He's A Liar!'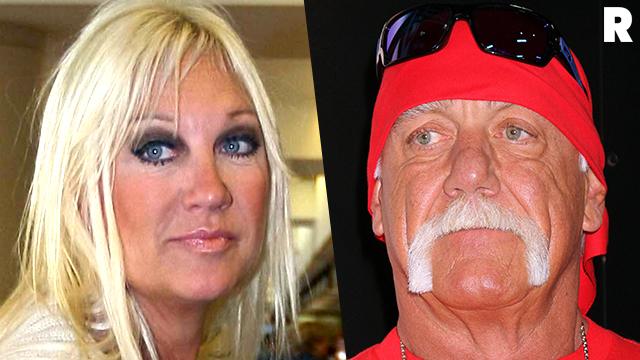 Article continues below advertisement
When asked whether Linda planned to file a lawsuit or attempt to get any kind of sanctions, Rafool said, "No comment at this point."
As RadarOnline.com reported, Hulk can be heard tearing apart then-wife Linda in the tape, which he claims was recorded in 2007 -- before Linda filed for divorce that fall.
Hulk, born Terry Bollea, tells pal Bubba "The Love Sponge" Clem on the tape, "Dude, the only thing I will ever ask of you … I don't know how you will pull this off … is, if I am ever on my death bed, you cannot let Linda come and visit me."
Linda had yet to file for divorce at the time, but Hulk was anticipating a messy split. Discussing his residence in Las Vegas, which he had bought for $4.25 million and watched grow in value to $5 million, he said, "If I get divorced, Linda will make me sell it."
But he had a plan -- and it involved SoBe Entertainment mogul Cecile Barker, who he slammed as a "black billionaire" and N word elsewhere on the tape. "F**k it," Hulk can be heard saying. "Cecile will buy it and give it back to me after the divorce."
Article continues below advertisement
Linda's attorney Rafool said her team was aghast to hear his comments -- because they contradicted statements Hulk would later make during the divorce proceedings.
"As you can see, his claim that he was shocked and in awe when Linda filed for the divorce was -- as we said then -- something false," Rafool accused. "He already ended the marriage himself. … He said that he was in shock and awe, simply because he tried to spin it to his best angle. And this just proves that he was a liar!"
"Relative to the Vegas condominium, that is quite funny because during the case, he filed a motion to have the condominium sold," Rafool said. "That was a big issue in our divorce! We did not want to sell the condo because we thought it was worth more. He wanted to sell it and he actually defaulted on a contract and it cost us money. He went to court so that he would not have to hold on to the contract."
Article continues below advertisement
"So for him to make these claims before the divorce on the tape also illustrates his lack of credibility because he took a completely different position in the divorce," Rafool said. "And of course, what he is saying on there about having his friend Barker secretly buy the condo is fraud. You can't in a divorce have someone turn around and buy from you when you claim it's an arm's length transaction."
Hulk's lawyer, David Houston, told RadarOnline.com, "Mr. Rafool knows there was never a condominium purchase which could have resulted in a fraud against Mr. Bollea's ex-wife. We would be hopeful that the matter would put itself to rest very quickly. During the course of that litigation a lot of things were said and done that certainly were the result of the emotions of the moment as opposed to any factual plan or scheme."
But in the end, Rafool said, Linda is just glad to have Hulk out of her life -- and feels the revelation of his disgusting rants is proof she made the right decision.
"She feels vindicated that she had been saying all along that Hulk was a phony," Rafool said. "If you goes back and look at what he told the public at the time of the split, the shocks and 'oh I can't believe it' and 'woe is me,' 'I almost committed suicide because I couldn't believe my marriage and family was over.' ... a lot of that was just for public sympathy, PR and was not true."