Way Too Friendly! Gretchen Carlson Slams 'Sexist' Steve Doocy In Bombshell Lawsuit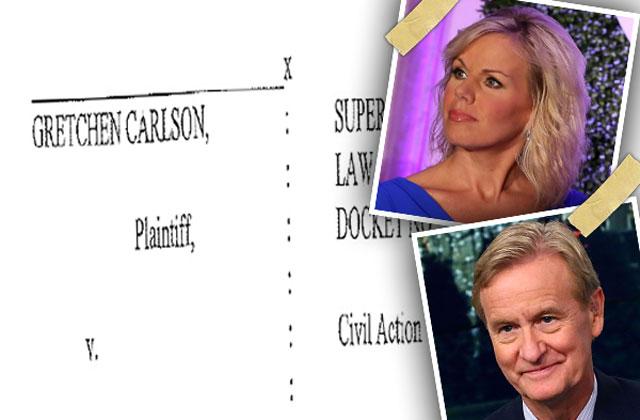 Gretchen Carlson filed a shocking sexual harassment lawsuit against Fox News CEO Roger Ailes — and is going after her former colleagues, too! RadarOnline.com has obtained the court documents filed by Carlson, and they include a series of bombshell claims against her former Fox & Friends co-host Steve Doocy, as well as her former boss Ailes.
Carlson, 50, claimed in the documents that Doocy, 59, "created a hostile work environment by regularly treating her in a sexist and condescending way."
Article continues below advertisement
She detailed numerous alleged incidences in the paperwork. According to Carlson, Doocy once humiliated her by "putting his hand on her and pulling her arm down to shush her during a live telecast" and "mocking her during commercial breaks, shunning her off air, refusing to engage with her on air, belittling her contributions to the show, and generally attempting to put her in her place by refusing to accept and treat her as an intelligent and insightful female journalist rather than a blonde female prop."
The host claims that she made a complaint against him in September of 2009, and Ailes responded "by calling Carlson a 'man hater' and 'killer' and telling her that she needed to learn to 'get along with the boys.'"
Carlson was fired from Fox & Friends in 2013 and moved to a mid-afternoon time slot.
As RadarOnline.com reported, she claims the demotion occurred after she rejected Ailes' sexual advances.
UPDATE:
FOX News Chairman & CEO Roger Ailes told RadarOnline.com in a statement, "Gretchen Carlson's allegations are false. This is a retaliatory suit for the network's decision not to renew her contract, which was due to the fact that her disappointingly low ratings were dragging down the afternoon lineup. When Fox News did not commence any negotiations to renew her contract, Ms. Carlson became aware that her career with the network was likely over and conveniently began to pursue a lawsuit. Ironically, FOX News provided her with more on-air opportunities over her 11 year tenure than any other employer in the industry, for which she thanked me in her recent book. This defamatory lawsuit is not only offensive, it is wholly without merit and will be defended vigorously."