George Takei Responds To William Shatner Calling Him 'Very Disturbed'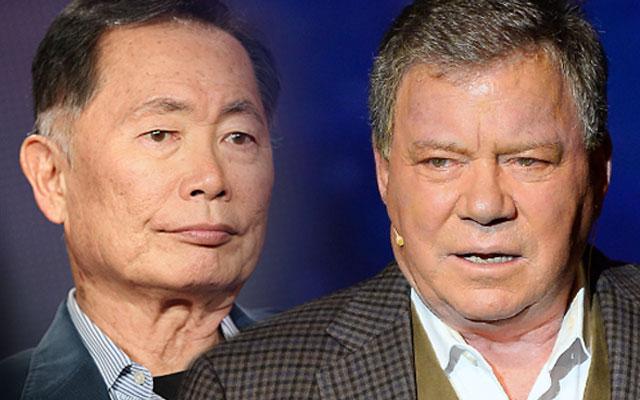 George Takei didn't seem the least bit upset at William Shatner's latest dig at his character, in their never-ending feud between the former Star Trek co-stars.
Shatner reignited the fire last month in an interview with news.com.au, as he's down under promoting his one-man show, Shatner's World. In that chat, Shatner, 84, said of Takei, 78, "He is a very disturbed individual, the truth of the matter is.
Article continues below advertisement
"I don't know him. I haven't seen him in 25 years, I don't know what he is up to. It is not a question that has any meaning to me. It is like asking about George Foreman or something."
But Takei had the final word, at least for now, when sitting in on The Howard Stern Show Monday, where he's been an on-and-off in-studio personality over the past 10 years.
Takei is on the East Coast promoting his Broadway musical Allegiance, which prompted Stern to remark how Shatner's likely jealous of Takei for his continued career success, according to MarksFriggin.com, an ongoing archive of the daily radio show.
Takei, unflustered by the latest barbs, told Stern that Shatner was dead wrong in saying that he hasn't seen him in the past quarter-century, noting how he'd been him a few months back. (Takei, an icon in the gay community, was among those in attendance at Shatner's 2006 Comedy Central Roast, telling him in good fun, "F**k you and the horse you rode in on!")
Stern noted how Takei takes all of his former co-star's digs in stride. When he asked Takei why he follows Shatner on Twitter when Shatner doesn't follow him back, the famed Mr. Sulu said he was keeping an eye on the former Capt. Kirk.
Takei said that he's since invited his former USS Enterprise mate, in a hard-written note, to come watch him on Broadway, but received no response except for an acknowledgment from one of Shatner's assistants that the invitation was received.
Readers, whose side are you on in this sizzling show biz feud?