ISIS Attack: Decapitated Head Found At French Gas Factory In Suspected Terrorist Attack –– Islamic State Flags Found At Scene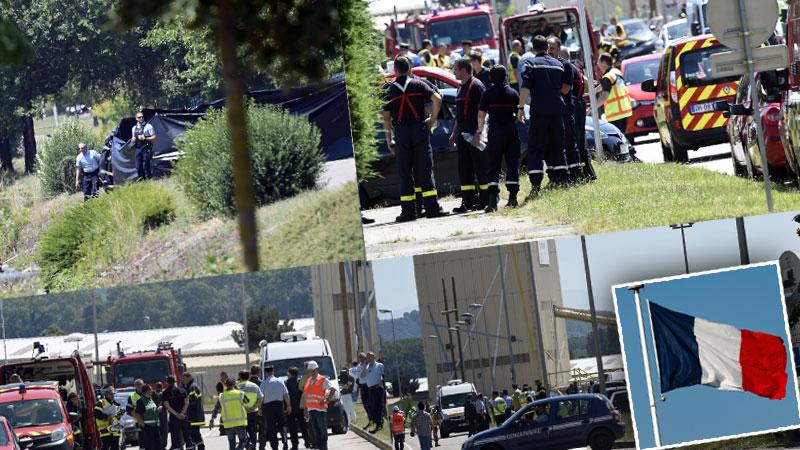 UPDATE: Multiple arrests have been made in the terrorist act, authorities confirmed Friday. French Interior Minister Bernard Cazeneuve told reporters, "People who could have participated in this abject crime are in custody after having been arrested," adding that one of the suspected terrorists was from the region, and had been flagged for a two-year period nine years ago, for his connections to extremists. French president Francois Hollande confirmed that the incident was the work of terrorists, and said that he was planning to meet with defense authorities this afternoon.
Article continues below advertisement
The decapitated head of a man was recovered on the gate of a French gas factory Friday, in what authorities suspect was a terrorist act linked to the group ISIS.
One person was declared dead, and 12 injured, in the attack on Air Products, an American-owned company, French media reported.
Two assailants arrived to the factory in Saint-Quentin-Fallavier, in the Southeast of France, with two flags with Arabic lettering on it and drove their car into gas canisters onsite, triggering an explosion. The two terrorists also set off a series of gas bombs, according to reports.
One of the suspected attackers, a 30-year-old man, was taken into custody by law enforcement, according to local reports, adding that the suspect was previously "known to security services."
A man's torso was found at a different part of the facility, according to an official speaking to the AP on condition of anonymity.
French interior minister Bernard Cazeneuve is at the scene of the deadly ambush, and has called for beefed-up security throughout the country. France's President Francois Hollande is en route to the country after a meeting in Brussels.
Watch The Video On RadarOnline.com