Exclusive
Duggar STD Scandal! Family Member Accused Of Infecting Woman With Herpes After Wild Sex In Shocking Lawsuit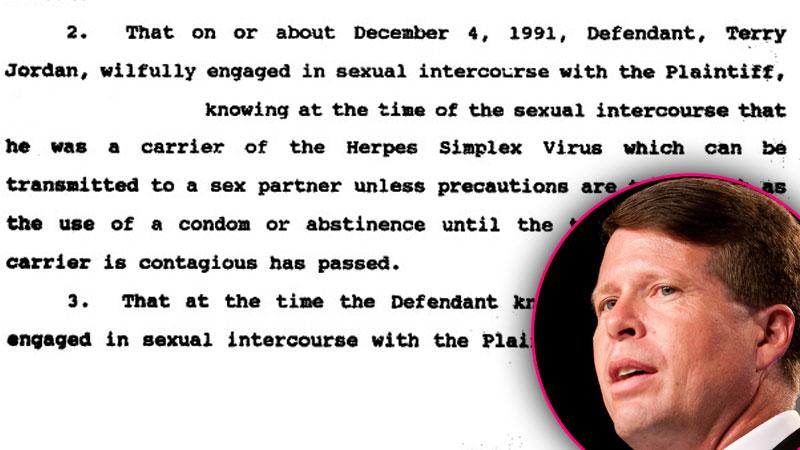 Those dirty Duggars!
The conservative Christian clan has been hiding another shocking sex secret from fans for years.
RadarOnline.com can exclusively reveal that Amy Duggar's dad— and patriarch Jim Bob's brother-in-law— Terry Jordan, 52, was once accused of infecting a woman with genital herpes in a bitter lawsuit.
In Washington County court documents uncovered by RadarOnline.com, an Arkansas woman claimed the frequent 19 Kids And Counting guest star gave her the herpes simplex virus after a wild romp in bed on December 4, 1991.
Article continues below advertisement
READ THE SHOCKING COURT DOCUMENTS
Not only did he leave her with the incurable virus, the woman claims, Jordan "negligently failed" to tell her she was at risk.
"Terry Jordan willfully engaged in sexual intercourse with the Plaintiff…knowing at the time of the sexual intercourse that he was a carrier of the herpes simplex virus," the woman's lawyer stated in the initial case filing.
She claimed to have suffered outbreaks and "extreme emotional distress" from the condition, and requested one million dollars in exemplary damages.
While Jordan admitted he had unprotected sex with the woman, he swore a doctor had found no signs of herpes during a recent examination.
He said that the sexual relationship was "ongoing," and when the woman left his home on the night of the alleged infection, "she departed with a smile on her face."
Despite his adamant denial that he had herpes, Jordan refused to submit to a blood test that would prove his innocence.
Article continues below advertisement
On December 8, 1992, the suit was ultimately dismissed after the woman failed to answer medical questions demanded by Jordan.
Jordan has been accused in court of other predatory behavior. As RadarOnline.com exclusively revealed on July 1, Jordan's now-wife Deanna Duggar, 52, filed a restraining order against him in July 1992.
"He said he was going to kick my a**," p claimed in court documents, adding that he also threatened to "kill" her and their daughter Amy, now 28.
Jordan and Duggar eventually wed in 2006, when daughter Amy was 20 years old.
The STD news is just the latest scandal to hit TV's previously most pious family.
In May, a newly uncovered police report revealed that Jim Bob's eldest son Josh, 27, molested five minor females, including two of his sisters, in the family's home.