Exclusive
Another Secret! Amy Duggar's Mom Deanna Filed Restraining Order Against Husband Terry Jordan: 'He Threatened To Kill Us,' Say Court Docs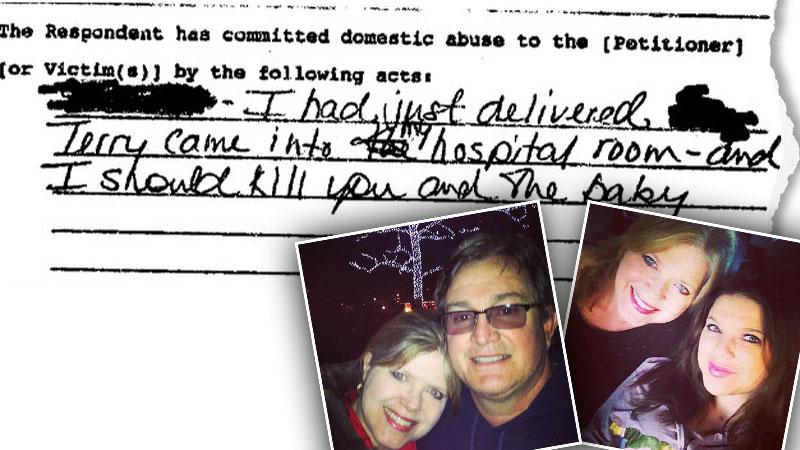 Duggar fans were horrified when they learned the family tried to cover up eldest son Josh's alleged sex abuse crimes.
But the 19 Kids And Counting clan has yet another shocking secret from their past.
RadarOnline.com can exclusively reveal that the TLC show's frequent guest star, patriarch Jim Bob's sister Deanna, once filed a restraining order against her now-husband in their home state of Arkansas.
Article continues below advertisement
In Washington County court documents obtained by Radar, Deanna accused Terry Jordan, 52, of threatening her life and that of their child— known by Radar to be 19 Kids' bubbly cousin Amy, 28— in July 1992.
READ THE SHOCKING COURT PAPERS
"He said he was going to kick my a** if I didn't allow him to see redacted," Deanna wrote on July 24, 1992, adding that he had a long history of verbal abuse.
"I had just delivered redacted, Terry came into my hospital room and said I should kill you and the baby."
Amy was born in September 1986. six years before her mother filed papers.
The judge promptly approved the order, prohibiting Jordan from contacting Deanna and their daughter.
"…The Court being well and sufficiently advised finds that there is sufficient evidence to support the Petition alleging that the Victims are in immediate and present danger of domestic abuse," he wrote, setting a hearing for the following month.
However, just three days later, an order of dismissal was filed at Deanna's request.
As Radar reported in January, Deanna admitted on an early episode of the family's reality series that she had daughter Amy out of wedlock with Jordan.
They married 20 years after her birth in 2006.
"Just because we are Christians doesn't make us perfect," Amy explained in an Instagram post soon after Radar's report. "It just makes us forgiven."