Charlie's Threat To Denise: 'I'm Going To Sever Your Head & Send It To Your Father!'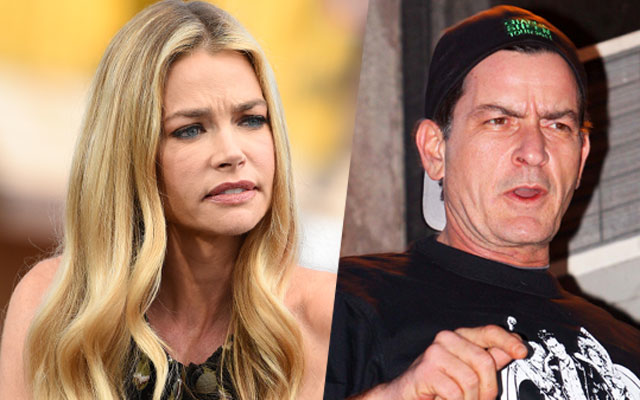 Just when it seemed that Charlie Sheen couldn't do anything more to shock fans, his ex-wife, Denise Richards, has claimed in court documents that the actor once threatened to cut off her head, and send it to her elderly father.
Upset about not being able to spend Christmas with daughters Sam and Lola in 2014, Sheen allegedly told Richards, "I'm looking at a picture of your parents sleeping. I had someone go into their house, give xanax to the dog, and instead of killing them, I'd rather your mom die a slow death from cancer. I am not going to do the same for you. If you get between me and the kids, I am going to sever your head, and send it to your father, and they will live without their mom, in a mansion by themselves, without their mom, and finally have the relationship with their dad." Richards revealed the claim in a sworn declaration.
Article continues below advertisement
As RadarOnline.com reported, Richards, 44, is asking a Los Angeles judge to force Sheen, 50, to either put $7 million in cash back into their daughters' trust fund, or purchase a home of equal value, after the actor sold the Mulholland Estates mansion that had been titled to a trust for Sam, 11, and Lola, 10.
According to court messages obtained by RadarOnline.com, Sheen sent threatening text messages to Richards at the end of 2014.
"Hope your sic holiday sucked you pig whore...yo are playing a dangerous game with your life pig c**t. Yu are one jaunt away. How dare you..I will get you one day, live in fear u piece of s**t," the documents claim Sheen stated in a text to Denise.
Later, on January 5, 2015, Sheen was upset the kids didn't immediately respond to a text message he sent while the kids were charging their phones, the documents claim.
Article continues below advertisement
Sheen texted, "Nothing??" after not receiving a response. "Tell mom to go eat pork and die. yu r both, REALLY F**KING RUDE. Yure mom is a loser. in fact, let's see how well yu all do without my $$$$."
Another alleged text message reads, "u and i are done friend which u have none of. u suc as a person mom and everything else. f**k u denise die like your mom."
The disturbing text messages were relentless and cruel. In one unbelievable exchange, Charlie says he kept the moms "rotting foot" of Richards's dead mom, "in case I want a hand job or a snack." Richards' mom died several years ago of cancer.
And she wasn't the only one at the receiving end of his diatribes.
In one disturbing exchange, daughter Lola texts Sheen to tell him she thinks he treats Richards terribly. According to court documents, his response includes a reference to his father, Martin Sheen's heart surgery.
"Mind your tongue young lady. if i talked to my parents like this at your age they'd beat my ass. Show some goddamn respect. and you can't even come and see your grandpa Martin Sheen for ten minutes after he's had open heart surgery and almost died last week?" Sheen rages.
Article continues below advertisement
He also hints at his HIV diagnosis, which was still a secret from the public at that time.
"Also not that you care, but your dad is battling a deadly disease and I'd appreciate a little more respect. Unless you have an apology for me don't write anything. I'm moving to Mexico. Good luck to you and Sami, oh and your welcome for all the gifts," Sheen texts.
Young Lola responds, "You are so mean to me."
A court hearing has been set for February 22.