Cash-Strapped Charlie Plans To Reduce Child Support To Denise & Brooke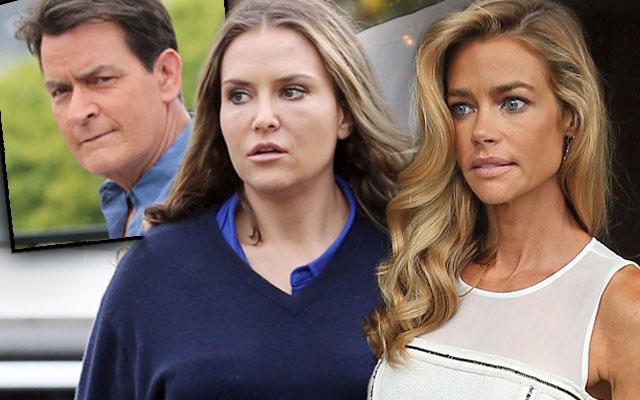 Charlie Sheen is doing all that he can to stem his spending as his $10 million HIV cover-up unravels. In his latest scheme, RadarOnline.com has learned that the Tinseltown trainwreck has asked his lawyer to try to reduce the child support payments he doles out to exes Denise Richards and Brooke Mueller.
"Charlie has told his lawyer to formally go to court to get the monthly $55,000 child support payments to Denise and Brooke reduced," an insider told Radar. "He is saying the most they should be paid would be $10,000."
Article continues below advertisement
Now that the Anger Management star is unemployed and feeling the pinch of several HIV cover-up payoffs, "The gravy train is coming to an end," the insider said. "And Charlie is starting with the mothers of his kids."
Richards, 44, is mom to daughters Sam, 11, and Lola, 10, and Mueller's kids with Sheen are twins Bob and Max, 6.
"There was never any formal court order by a judge dictating that Charlie pay that amount," the source claimed. "It was Charlie being generous. In Charlie's opinion, Denise and Brooke should be able to take care of the kids' needs for $10,000 a month."
Third wife Mueller, who relies on the child support as her sole source of income, is "so stressed out about the child support being slashed," the source said.
To raise money, "Brooke rented out her Mulholland Estates mansion to Mariah Carey for the week of Halloween," the source continued. "Mariah paid $100,000 for five days because she wanted to have a huge party and loves the gated community."
"Brooke is now trying to save as much money as possible, but she typically goes through the $55,000 every month."
Article continues below advertisement
Adding to the drama, Radar reported that Sheen's team recently sent a letter to Mueller stating she has five weeks to move out of her house, because it is going to be sold. In 2012, Sheen, now 50, bought Mueller the $4.8 million mansion in Mulholland Estates, which has five bedrooms, a home theater, swimming pool, and fireplace in the master suite.
Mueller, 38, is desperately trying to come up with funds to buy the house because she doesn't want the boys lives to be disrupted with a potential move, the source said.