Exclusive
Washington Sex Scandal! 'Powerful' Politician Preaching 'Family Values' Visits Bunny Ranch Brothel, Gets 'Cuffed & Gagged' By Prostitutes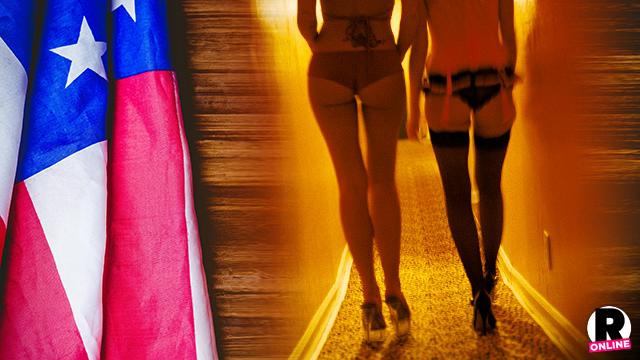 Dennis Hof's raunchy Nevada Bunny Ranch brothel has had some high-profile clients, including Motley Crue rocker Vince Neil and other unnamed Hollywood play boys.
But according to the owner's new memoir, The Art of the Pimp: One Man's Search For Love, Sex, and Money, even a famous conservative politician enjoyed the ranch's sexy ladies for nights of kinky passion.
One day, Hof, 68, says he got a call from an aide to a "powerful, influential" legislator who had some very specific sexual "needs."
Article continues below advertisement
"Two weeks later, I found myself in the middle of a cloak-and-dagger operation," Hof recalls in his new read. "I had to send a limo to the airport to pick up the politician, who was in disguise. I had to let him into the Bunny Ranch through the private entrance reserved for men like him."
The man's "needs" were quite shocking compared to his right-wing public views.
Hof claims he turned the room into a "prison cell" to make the politician's wild fantasies become a reality.
"Two girls…cuffed and gagged him and put him in the cell and taunted him from across the room while they had sex," the self-proclaimed "pimp" writes. "When he got too hot and bothered, they would pause and douse him with buckets of cold water."
"When he begged for mercy, they let him out, still cuffed, and took turns f***ing him in the a** with a giant d****."
The anonymous statesman certainly enjoyed himself. Just two months later, Hof says, he came back for more!
Hof couldn't believe that someone so straight-laced would request such a sadomasochistic encounter.
"This is a guy you see on national television every week, going on about family values," he says.
So who was the S&M mystery man? A Bunny Ranch insider tells RadarOnline.com he was based in Nevada.