Exclusive
Bill Cosby Slams Sex Assault Accuser, Defends Hugh Hefner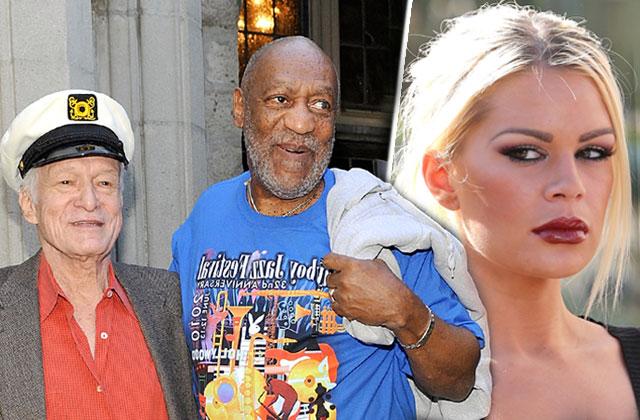 Bill Cosby has headed to court in defense of his friend, Hugh Hefner, and to blast the woman who recently added the Playboy founder as a defendant in her lawsuit against the comedian.
On June 6, Cosby, 78, headed back to federal court and slammed Chloe Goins' lawsuit against him and his longtime friend, RadarOnline.com can exclusively reveal.
Goins accused Cosby of sexually assaulting her at the Playboy Mansion in 2008. Recently, she filed new court documents adding Hefner as a defendant to the legal battle.
Article continues below advertisement
She claimed that Hefner was the one who introduced her to the comedian back in 2008 at a Midsummer Night's Dream Party at the Holmby Hills, California, estate.
Cosby argues in the documents that Goins failed to provide any evidence that 90-year-old Hefner played any part of the alleged sexual assault that took place at the infamous Playboy Mansion when she was just 18.
He also says that the statute of limitations has run out in her claims against both aging stars.
In addition, Cosby claims the woman's allegations are "vague," and fall short of establishing the facts needed to invoke the extended statute of limitations.
Defending his friend, he says that adding Hefner as a defendant was a "sham."
In her lawsuit, Goins claimed that Cosby spiked her drink, leading her to blackout. Once she woke up, she alleged she was in a room at the mansion with Cosby at the foot of the bed, sucking her toe and masturbating.
Article continues below advertisement
The lawsuit claimed that Hefner had a history of inviting "young and impressionable and possibly minor children to his residence and providing alcoholic beverages."
She blamed the Playboy head, claiming that he knew or should have known that the Cosby Show star had a history of sexual battery against women, and said he was aware his guests were being exposed to harm.
Cosby claimed he wasn't even at the Playboy mansion on the date of the summer party that Goins claimed she attended.
The L.A. County District Attorney previously rejected Goins' case against Cosby, stating that the statute of limitations had expired and there wasn't enough evidence of an assault. She went on to sue Cosby in civil court.