Exclusive
Amanda's Heartbreak! 'Bachelor' Star's Ex Takes Her Back To Court For Custody Showdown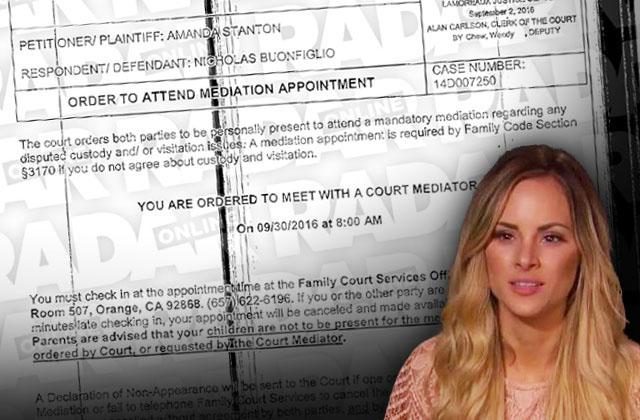 Will Amanda Stanton be forced to choose between fame and her family? RadarOnline.com has learned that her ex-husband and father of her two daughters has taken her back to court, asking a judge to give him more custody of the girls since her new lifestyle is "causing harm!"
Stanton and former Bachelorette star Josh Murray just announced their engagement on September 6, on the season finale of Bachelor in Paradise. Only four days before that, her ex-husband, Nick Buonfiglio, filed bombshell documents in court, asking a judge to give him increased custody of their daughters: Kinsley, 4, and Charlie, 2.
Article continues below advertisement
In the paperwork, obtained by Radar, he rips his reality star ex for going on "multiple TV shows," claiming she has "been scrutinized for how she has acted by hundreds of thousands of fans, and it has put my daughters in tons of media attention, which I believe is causing harm." (Indeed, the girls were featured on their mom's hometown date with Ben Higgins on The Bachelor earlier this year. He dumped her just days after meeting them.)
"To add to that, Amanda's lifestyle and income has dramatically changed," Buonfiglio claims. In June 2015, when they split, she reported an annual income of $100. Now, he claims, she is "making well over $20,000 to $30,000 per month," including $5,000 per sponsored social media post.
READ The Explosive Court Documents
Buonfiglio has been giving her $2,000 per month, based on the fact that she is supposed to have them 65% of the time. But now, he claims, that percentage has changed too.
Article continues below advertisement
Buonfiglio says he babysat the girls from June 4 to June 20, so their mom could film Bachelor in Paradise. And although he's only supposed to have them one night a week and every other weekend, he says that schedule has drastically shifted since Stanton, 26, got famous. So now, he wants a judge to make it an official 50/50 split — with a reduction in child support to match.
"I am having trouble living giving $2000 / month," he claims, while "the time I have with the kids has increased to almost 50/50."
Buonfiglio says he asked his ex to alter their schedule and payment plan, and claims, "She said, 'Take me to court if you want more time.' Which I am doing."
Stanton has not yet responded, but the couple is scheduled for a mediation session on September 30. If they don't come to a deal there, there will be a hearing on October 13.
Meanwhile, Murray has moved in with Stanton and her daughters.
Story developing.