Scary! Woman Freaks Out On Flight Screaming 'God You're My Savior' Over And Over At The Top Of Her Lungs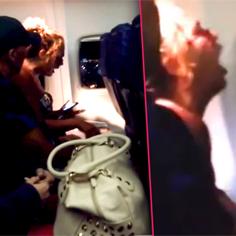 Talk about a scary meltdown.
An unidentified woman on a flight to Tampa, Fla., had a breakdown screaming "God you're my savior" over and over again while shaking in her seat as panicked passengers looked on in awe, and RadarOnline.com has the bizarre video.
According to fellow passenger Reed Stanley who was on the plane and videotaped part of the incident, "She's been freaking out for the last 20 minutes. She started off by telling everyone to pray for her mother who just passed away.
Article continues below advertisement
"She went up and down the aisles telling everyone to just pray for her mother, and then she's been like this for the last 15-20 minutes," he says over her screams.
A man sitting directly next to the distraught woman appears to be trying to calm her down, but it's unclear if he knows her.
"I don't know if this guy next to her knows her or not, he's been trying to calm her down the whole time," Stanley says.
At one point she flails her arms and screams at the man next to her, "Don't f**king touch me."
As the plane appears to be landing, the woman calms down a bit while still repeating non-stop "God you're my savior" and Stanley explains that he was asked to make sure she doesn't get up from her seat, indicating there was no air marshal on board.
"The flight attendant asked me to make sure she doesn't like try to go to the back door and open it," Stanley says.
"If she tries to go back, I'm gonna block her."
Uploaded on Oct. 9, the hellish flight video has gone viral racking up nearly 500,000 views already — and a second, shorter clip was also uploaded by Stanley two days later with the caption: "This woman was freaking out. The flight attendants asked me to stop her from doing anything crazy. Well more crazy."