WNBA Star Kisses Opponent On Court, They're BOTH Issued Fouls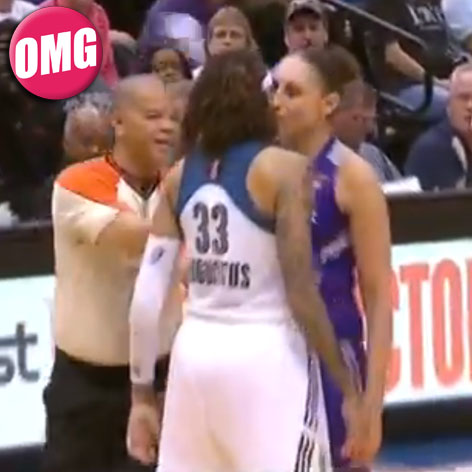 It's the peck on the cheek that's gone viral!
WBNA stars Diana Taurasi of the Phoenix Mercury and Seimone Augustus of the Minnesota Lynx were going shoulder to shoulder and it looked like punches were about to be thrown until Taurasi landed, not a fist, but a kiss on Augustus' cheek.
The women are old friends. They've played against each other since they were kids and were recently teammates on the U.S. national team.
Article continues below advertisement
Both of the basketball All Stars laughed at how their confrontation on the court ended. The ref didn't find it funny though and issued them both personal fouls.
"As far as me and Diana and the tango dance that we had, I always say she just wanted some of my deliciousness," Augustus joked after the game.
Retorted Taurasi, "I was just trying to make sweet love."
What she didn't make were enough winning plays.
Augustus led her Lynx to a 82-65 win.
youtube=https://www.youtube.com/watch?v=S68TXBpMXpA&w=420&h=315