Exclusive
Forget Fish Fry, It's A Full On Fight! Wicked Tuna Stars Captain Ralph And Tyler's Brutal Beat Down!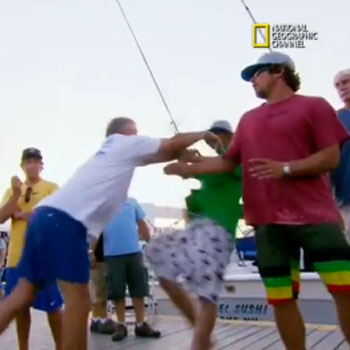 Wicked fights are breaking out on Wicked Tuna and RadarOnline.com has an exclusive sneak peek of the explosive upcoming episode where two guys come to blows on the dock!
The biggest hothead of the fleet, Captain Ralph of the Odysea, has a short temper and he loses his cool with the young whippersnapper from the rival Pin Wheel boat.
"If Tyler wants to be a jerk-off let him be a jerk-off with somebody else," Captain Ralph grouses about the young boat owner. "I'm done with that kid."
Article continues below advertisement
After pranking the older guys with water bombs, back at the dock tempers flare and Ralph and Tyler start fighting with each other, yelling insults back and forth.
"I'm not into your bullshit," Captain Ralph tells Tyler, and yells at the kid: "I don't like you 'cause you're a fu**ing idiot!"
The war of words turns into the first fist fight the show has ever seen when Captain Ralph storms off his boat and shoves Tyler to the ground in the shocking video.
Wicked Tuna will air on the National Geographic Channel Sunday, February 10 at 9 p.m. ET.