Graphic Footage: Animal Planet's 'Whale Wars' Stars Says It Busted Japanese Ship Poaching Whales, Four Dead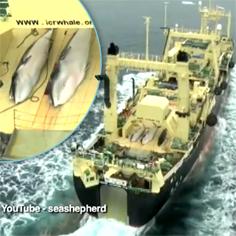 The Sea Shepherd Conservation Society, a group that monitors the hunting of whales, claims that Nisshin Maru, a Japanese ship in a fleet, was responsible for the butchering of as many as four Minke whales in forbidden territory.
The incident took place in New Zealand's region of the Antarctic, which has been protected from the practice of poaching under the designation of the Southern Ocean Whale Sanctuary.
Article continues below advertisement
Sea Shepherd captain Sid Chakravarty refuted a claim on a sign the Nisshin Maru-posted on its' ship -- that they are a group dedicated to the research of whales.
"When 'science' requires you to grotesquely bloat up the bodies of protected whales, stroll across a deck smeared with their blood, hauling their body parts with hooks and chains, and discarding their remains over the side, then that 'science' has no place in the 21st century," Chakravarty said.
Watch the graphic video on RadarOnline.com:
According to Sea Shepherd, its' trio of ships (all named for renowned celebrity environmentalists) -- The Steve Irwin, The Bob Barker and The Sam Simon -- will continue to monitor and cause problems for Japanese ships on what it deems to be "illegal" hunting missions.
The organization featured in a television series entitled Whale Wars on Animal Planet, documenting Sea Shepherd's 2008/09 Antarctic campaign against Japanese whalers, following events on the Steve Irwin.