Wendy Williams Blames Menopause For On-Air Collapse!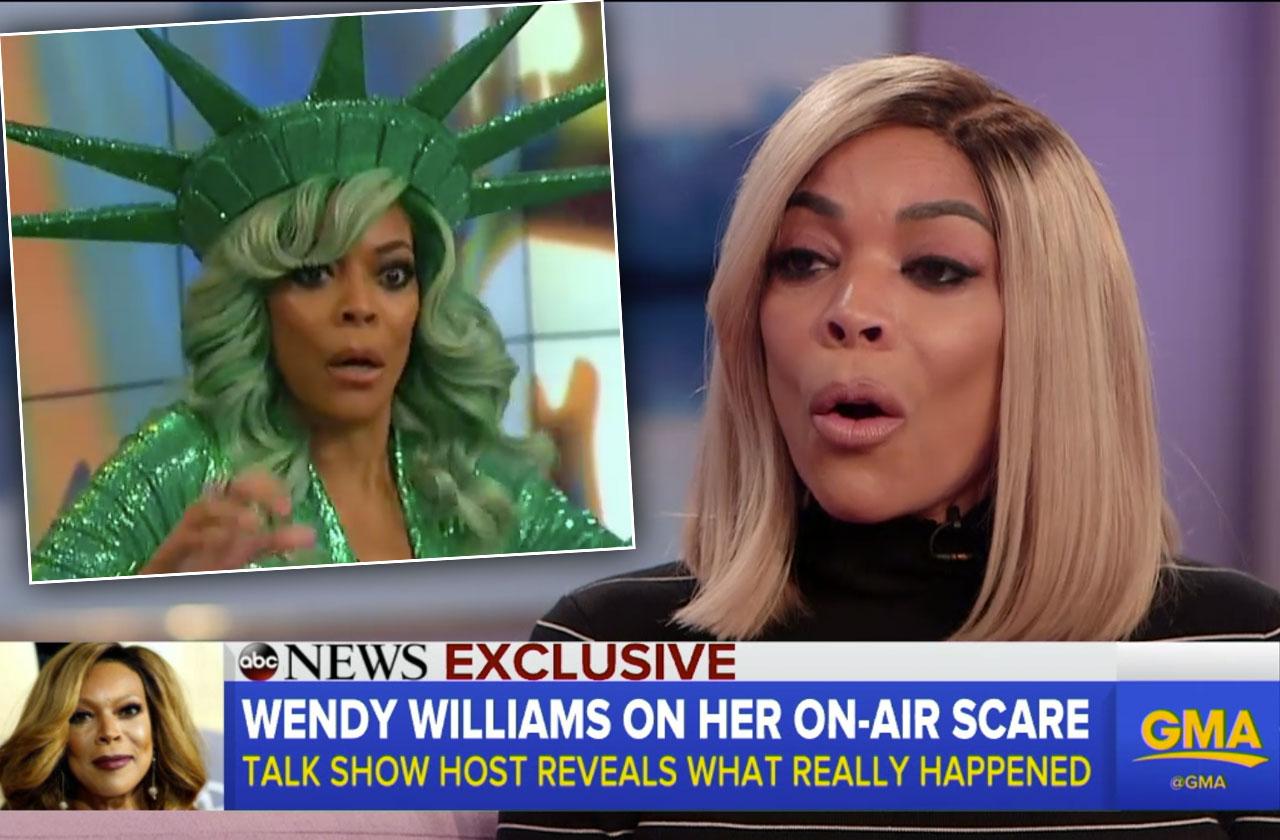 Article continues below advertisement
"I was scared to death," Williams said recalling the incident. "I got hot. I was dehydrated according to the paramedics."
Explaining that she is a 53-year-old woman, the show host added, "I'm also going through menopause." The condition is known to cause hot flashes, sleep disturbances, anxiety and dizziness.
When recounting her shocking fall, Williams said that she realized she was about to collapse and thought of only two things: "Fall pretty, cause this will never happen again, and go down with the crown. For people watching, when they saw me, you know, put my head, my hand up, it's cause I'm trying to make sure my crown is there."
"It was a beautiful fall," she joked to the ABC reporter. "Unfortunately, we went to commercial... so nobody saw it."
In the video of the incident, Williams is seen looking wide-eyed and confused before stumbling on stage and falling on her back. She told Robach that she realized something was wrong when she returned from a break and resumed filming.
"It felt like I was the middle of a fire," William explained. "Starting down at my feet going all the way up to my top."
Article continues below advertisement
She said that once she began feeling dizzy she immediately thought she was going to fall and crack her skull. "Fainting is not something ... that I do," she added. "I got very scared, cause it was a live show."
The host claimed her staff and security took a while to help her because they likely assumed she was doing a trick. "Nobody came out until I hit the ground," said Williams, "Then, oh my gosh, chaos ensued. The studio audience went wild."
Despite having fallen "booty first" and hit her head, Williams said she is doing "fine, including blood work." Despite doctors saying her fall could have been caused by a heart condition, Williams assured that she "never got one headache," and feels "no pain" after the frightening incident.
"More people were concerned about me than I actually thought that they would be," she said, thanking fans for sending her gifts and flowers. She added that even after her health scare she was determined to give her viewers a worth-while show. "That's why I got up off the floor and came out here and closed out the show," she said. "You're only as good as your last performance."
Are you surprised by Wendy Williams' shocking claims about her on-air collapse? Sound off in the comments below.
We pay for juicy info! Do you have a story for RadarOnline.com? Email us at tips@radaronline.com, or call us at (866) ON-RADAR (667-2327) any time, day or night.