Vicki & Tamra Try To Repair Their Friendship, Gretchen Warns Against Vicki's 'Song And Pony Dance'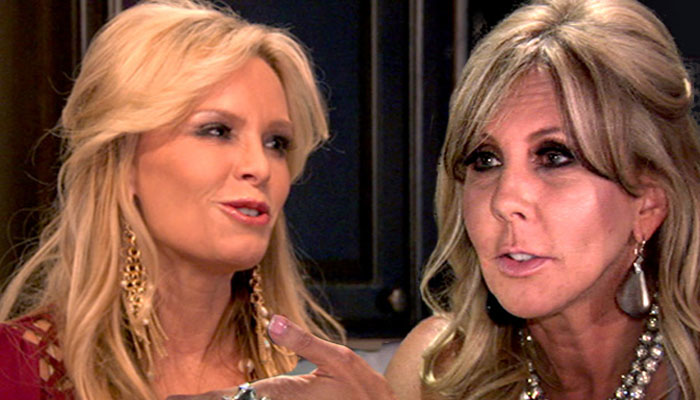 Real Housewives of Orange County castmates Vicki Gunvalson and Tamra Barney attempt to repair their friendship on the upcoming episode of the hit Bravo show, but Gretchen Rossi inserts herself explaining that she's worried about Vicki's "song and pony dance" — and you can watch it all unfold in this clip on RadarOnline.com.
"Vicki and I never talk about stuff," Tamra said. "We put Band-Aids on it and it's done, and I want to change it. I think we've been friends long enough that we owe each other the time to sit down and kind of just talk this out."
Article continues below advertisement
Tamra takes Vicki into a wine cellar while they're at a house party to clear the air saying, "I know that things have been weird between us and that things have been said and things have been hard, but there's always been a part of me that has always known that you're still my friend.
"And it's almost like a family thing. You don't always agree what your family does, but you love them."
But back at the party sipping on a glass of champagne, Gretchen warns, "I do want Vicki and Tamra to work out their differences, but I really am concerned about Vicki's whole song and pony dance about like, 'Poor me, my life sucks, everything's so hard.' So I'm just hoping that Tamra's smart knowing that this is Vicki's M.O."
Vicki got teary-eyed as she talked to Tamra about her alleged breakup with her boyfriend of two years, Brooks Ayers, saying, "We're not not happy. I can't be with the person that I really feel is good for me because of all the negativity that's out there, so that's why we made a decision to stop."
"You can't live your life on what other people think," Tamra said.
And to gossip some more, Gretchen called up her boyfriend Slade Smiley while at the party.
Article continues below advertisement
"It's been a weird night. I had to sit by Vicki at dinner," she told him.
"Did she confirm whether or not she's with Brooks?" he asked.
"She said that they've broken up and I totally called bullish*t on it. The whole thing's just weird," Gretchen said.
"I think Vicki's so worried about what everybody has to say about Brooks, so she doesn't want to bring him around."
"She's a really good liar," Slade said. "So there's no reason to assume she would be honest now."
To find out what happens tune in to the Real Housewives of Orange County Monday nights on Bravo.