'You Are A Piece Of Trash': Livid Vicki Gunvalson Fires Back At 'Filthy' Lauri Peterson After She Spilled Her Sex Secrets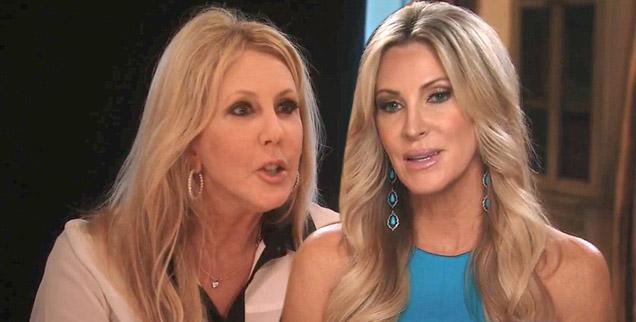 In a preview for the upcoming episode of Real Housewives of Orange County, a livid Vicki Gunvalson confronts cast mate Lauri Peterson for spreading rumors about her sex life, and RadarOnline.com has the explosive video clip.
"Not cool Lauri, not cool what you're doing. I'm just going to tell you straight up; what'd you go tell Gretchen when you had lunch with her? That I have had sex with multiple partners?" Vicki says to Lauri on the ski slope.
Article continues below advertisement
"No! I never once said you had sex with anybody," Lauri defended.
Flashback to a previous episode when Lauri is shown at lunch with Gretchen, dishing on Vicki's sex life.
"I walked in and she was in bed with another woman, and they were both in bed with another man," Lauri told Gretchen.
"Whether they were having sex, I don't know."
Lauri tells Vicki, "I never said you had sex. How would I know if you had sex?"
"Multiple partners? Unless you were in my room, how would you know?" Vicki asks.
"Well, in New Orleans when I walked in on you and a guy and a girl in your bed…" Lauri says.
"You're filthy Lauri!" Vicki fights back. "We were watching a movie! Are you kidding me?! You're filthy Lauri! Shame on you! Yeah, with all my clothes on. Abso-f**king-lutely."
"Well, f**k, I don't know what you guys did," Lauri says, egging her on.
Article continues below advertisement
"I never said you had sex. I said that you've had a lot of indiscretions."
"Donn and I were separated many times, we both were unfaithful," Vicki divulges.
"This was before you guys were divorced," Lauri chimes in.
"Hang on, Lauri! Don't judge."
But Lauri won't hang on and says, "What about the greek guy? What about the volleyball player that you told me that you guys did amazing things underneath the blanket coming back from Florida to LA?"
"Shame on you," Vicki slams back.
"Why are you blabbing your stupid-a** mouth?
And as RadarOnline.com previously reported, when the episode aired with Lauri telling Gretchen about the New Orleans incident, Vicki fought back claiming it was her sister who was in bed with them and there was nothing sexual going on.
"Lauri needs to get her head checked," Vicki wrote on her Facebook page in June. "The other woman in the bed is my sister. We were fully clothed watching a movie with a bunch of friends."
She later tweeted, "It was my wonderful sister and it was 8 years ago. She is really searching for story line! How desperate…"
To find out how the confrontation with Vicki and Lauri plays out, tune in to the Real Housewives of Orange County on Bravo next Monday night.
radar_embed service=bravotv src="http://www.bravotv.com/video/embed/?/_vid2659111" width="400" height="225"