Uma Thurman Reveals How Harvey Weinstein Sexually Harassed Her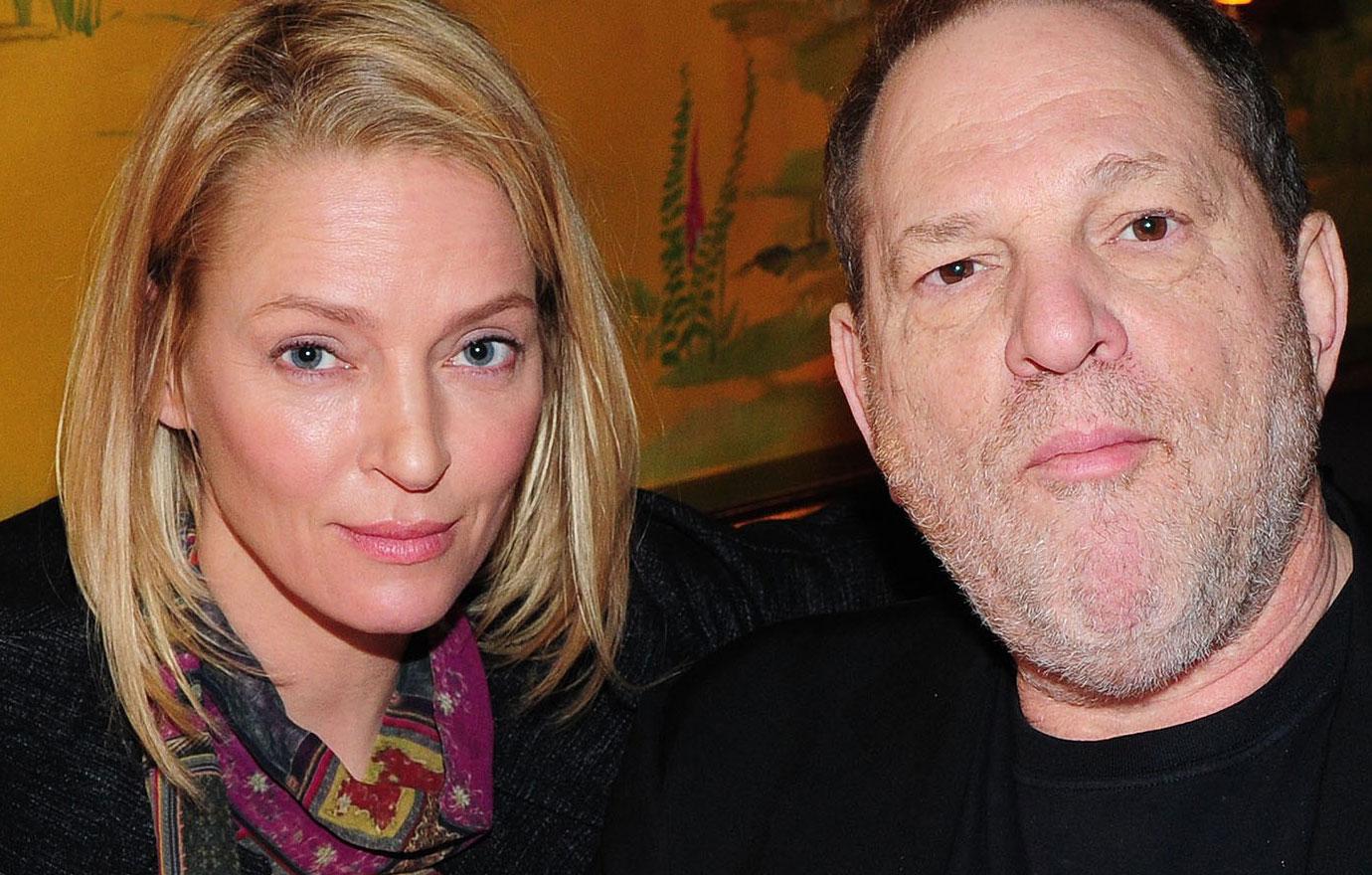 Uma Thurman, who had previously only hinted about suffering sexual harassment at the hands of disgraced predator producer Harvey Weinstein, has finally spilled the details on how he allegedly attacked her.
In an interview with New York Times reporter Maureen Dowd, Thurman told how things were fine between her and Weinstein in the beginning. She socialized with the producer and his first wife, Eve, after the success of their movie Pulp Fiction, directed by Quentin Tarantino.
Article continues below advertisement
"I knew Harvey pretty well before he attacked me," said Thurman, who became famous dancing with John Travolta in the hit thriller.
"He used to spend hours talking to me about material and complimenting my mind and validating me. It possibly made me overlook warning signs," Thurman confided to Dowd about Weinstein.
"This was my champion. I was never any kind of studio darling. He had a chokehold on the type of films and directors that were right for me." However, during a meeting in his Paris hotel room, they argued about a script and Weinstein wound up wearing a bathrobe. "I didn't feel threatened. I thought he was being super idiosyncratic like this was your kooky, eccentric uncle," said Thurman, known for her beautiful tall body and role as muse to cult director Tarantino.
Weinstein allegedly told her to follow him down a hall so they could keep talking. "Then I followed him through a door and it was a steam room. And I was standing there in my full black leather outfit — boots, pants, jacket. And it was so hot and I said, 'This is ridiculous, what are you doing?' And he was getting very flustered and mad and he jumped up and ran out."
Later, in Weinstein's suite at the Savoy Hotel in London, Thurman alleged she suffered Weinstein's "first attack.
Article continues below advertisement
"It was such a bat to the head. He pushed me down. He tried to shove himself on me. He tried to expose himself. He did all kinds of unpleasant things. But he didn't actually put his back into it and force me. You're like an animal wriggling away, like a lizard. I was doing anything I could to get away, like a lizard. I was doing anything I could to get the train back on the track. My track. Not his track."
At the time, the star was staying with her makeup artist friend, Ilona Herman, who later worked with Thurman on Kill Bill.
"The next day to her house arrived a 26-inch-wide vulgar bunch of roses," Thurman says. "They were yellow. And I opened the note like it was a soiled diaper and it just said, 'You have great instincts.'"
Then, she said, Weinstein's assistants started calling again to talk about projects. Thurman took Herman with her to a meeting with Weinstein at the Savoy Bar. Weinstein called her there and pressured her to come upstairs to his room.
Article continues below advertisement
Weinstein, Thurman claimed, said his earlier actions were a misunderstanding and stressed: "we have so many projects together." Finally, Thurman agreed to go upstairs, while pal Herman waited on a settee outside the elevators.
Once Weinstein's assistants vanished, Thurman said, she warned Weinstein, "If you do what you did to me to other people you will lose your career, your reputation, and your family, I promise you."
Thurman told Dowd that is all she remembers of the incident. Weinstein has been accused of sexual harassment by dozens of women, including rape.
The producer has denied some of the charges, but new stories about his behavior keep coming out.
We pay for juicy info! Do you have a story for RadarOnline.com? Email us at tips@radaronline.com, or call us at 800-344-9598 any time, day or night.