TV Reporter Gets Punched In The Face On Air!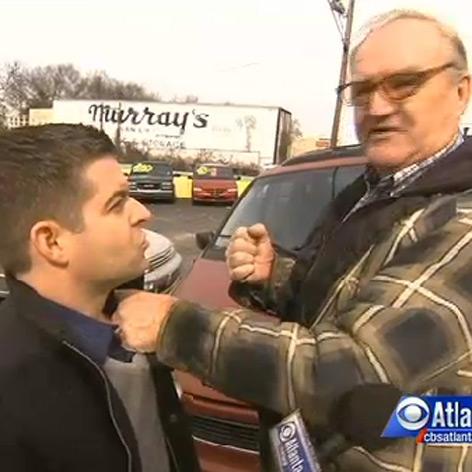 Talk about a smack in the face
Dedicated Atlanta reporter Jeff Chirico got sucker-punched while pursuing a story and it was all caught on camera.
The valiant TV journalist was investigating fraud at a local car yard when the owner's disgruntled father, Donald Wilder, launched a vicious attack on him.
The shocking video from CBS Atlanta News shows Wilder asking him about the charges brought against his son before he swings around and punches him full in the face.
Article continues below advertisement
"Don't you dare attempt to go in my business," Wilder is seen yelling at Chirico.
While scrambling up from the ground Chirico warns his attacker; "You will be arrested for assault, sir. You just punched me in the face."
Instead of backing off however Wilder threatens him with more violence, "Yeah, and I'm going to punch you again" he says.
Richard Wilder was the businessman being investigated. He had been charged with stealing customer's tax refunds but was discovered operating a new business in Gainesville, Georgia by the news team.
Fortunately Chirico was not seriously injured.
You can watch him take one for the team here.