Reporter Has WORST HAIR DAY EVER On Live TV!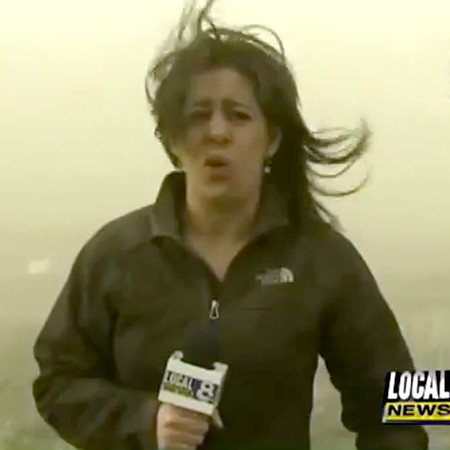 Unless you're Giuliana Rancic interviewing stars on the red carpet at the Oscars, being a TV news reporter is not always a glamorous job.
Case in point – meet Jamie Ostroff, an intrepid reporter for ABC affiliate KIFI-TV in Idaho Falls, ID. On Monday, Jamie was doing a live report in the middle of a dust storm for the station's 6:00 p.m. newscast and endured a bad hair day of EPIC proportions.
The best part is when Ostroff tossed back to the studio, asking meteorologist Michael Coats, "Michael, when is this going to end? I want this to end."
Article continues below advertisement
Watch the video on RadarOnline.com
youtube
Ostroff later told the industry news website TVSpy, "When the winds kick up, dust often blows from farms next to I-15 and forces transportation officials to close the road," "By afternoon, winds were blowing over 60 miles per hour and the road was shut down…"
"Afterward, I was covered in dust, with mud in my mouth and coming out of my eyes," Ostroff said. "The camera operator and I were both filthy, but otherwise OK."