'Oh S**t!' TV News Producer Tweets Reaction To Anchor Reading Fake Racist Names Of Asiana Pilots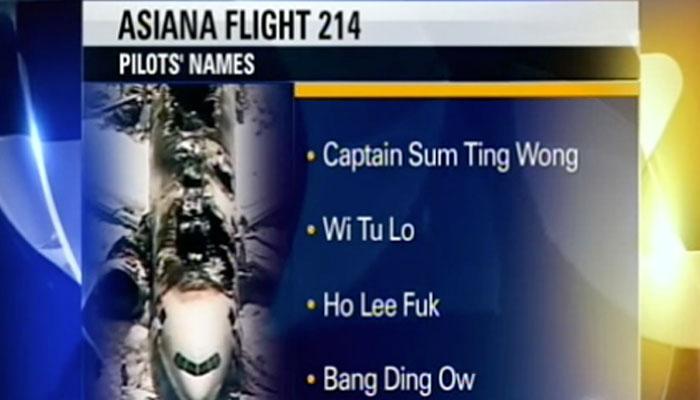 KTVU news writer/producer Brad Belstock knew instantly something terrible had just happened as his midday news anchor announced the names of the Asiana Flight 214 crash pilots.
Saying the station had confirmed the identities of the pilots with the National Transportation Safety Board, Tori Campbell began reading the names, starting with "Captain Sum Ting Wong" and including "Ho Lee Fuk."
"Oh sh*t" the shocked Belstock tweeted almost instinctively.
Article continues below advertisement
Belstock quickly deleted the tweet and he later deleted his entire Twitter account. The station apologized during its evening news broadcast for the obvious gaffe.
As RadarOnline.com reported, it's unclear who decided to prank KTVU but the station did, in fact, confirm the names with the NTSB.
For its part, the government agency is blaming the embarrassing error on a summer intern.
In a statement released late Friday, the agency said:
"The National Transportation Safety Board apologizes for inaccurate and offensive names that were mistakenly confirmed as those of the pilots of Asiana flight 214, which crashed at San Francisco International Airport on July 6....in response to an inquiry from a media outlet, a summer intern acted outside the scope of his authority when he erroneously confirmed the names of the flight crew on the aircraft."
Fortunately the NTSB didn't confirm the intern's name.
radar_embed service=youtube src="//www.youtube.com/embed/L1JYHNX8pdo" width="420" height="315"