TV News Anchor Fired For F-Bomb!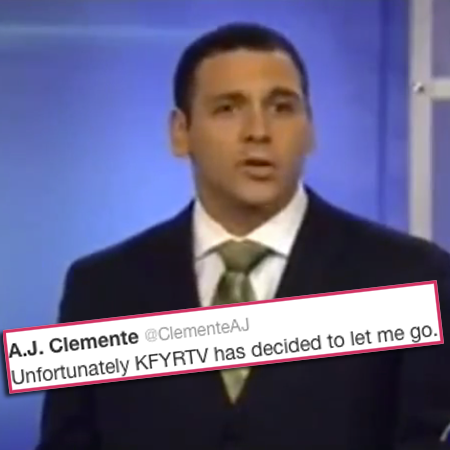 AJ Clemente's first day of work went so badly that he was promptly suspended and then fired after dropping the F-Bomb on live television.
The rookie news anchor for North Dakota's NBC affiliate KFYR announced on Monday morning that the network has decided to end his career with them after he said just two profane words on air.
"F---ing sh-t," he was heard whispering into his mic as an announcer introduced the 6pm newscast Sunday, which at first resulted in a suspension but then turned into a termination.
Article continues below advertisement
"Unfortunately KFYRTV has decided to let me go. Thank you to them and everyone in ND for the opportunity and everyone for the support," AJ tweeted to his followers.
It was his first moment on air and his last, but he isn't going to spend any time licking his wounds, he's already hustling for a new gig.
"Rookie mistake. I'm a free agent. Cant help but laugh at myself and stay positive. Wish i didnt trip over my "Freaking Shoes" out of the gate," he also wrote.
He also explained what he had said, denying that he had used a gay slur seconds earlier in his comments.
"I just want to say that I did not say the word gay, I was trying to pronounce the London Marathon winners name Tsegaye Kebede," and continued: "I would never disrespect anybody in that matter. Once again I'm truly sorry."
His co-anchor Van Tieu, opened up the 10:00 p.m. news hour with an apology about his on-air profanity.
Article continues below advertisement
"We were caught off guard and Clemente didn't realize his microphone was on. And while that was no excuse - we do train our reporters to always assume that any microphone is live at any time - unfortunately we cannot take back what was said. But, we do apologize and hope that you may forgive us and rest assured, that something like this will not happen again," she said.
Watch the video on RadarOnline.com (WARNING: Explicit Language)