It Really WASN'T Entirely His Fault! TV News Anchor Fired For Dropping 'F-Bomb' Explains What Happened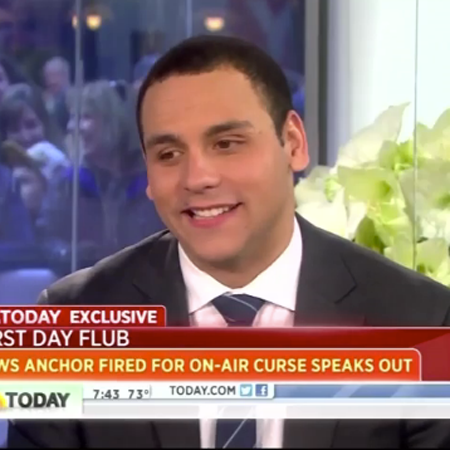 It may have been the best mistake that could have happened to him.
A.J. Clemente -- the TV journalist fired for dropping the 'f-bomb' on his very first day anchoring the weekend evening news at KFYR-TV, the NBC affiliate in Bismarck, North Dakota – has truly gone from small town obscurity to national prominence. On Wednesday, he even appeared on the TODAY show, where he poked fun at his regrettable on-air gaffe.
Article continues below advertisement
Speaking to TODAY's Matt Lauer and Savannah Guthrie, the likeable -- albeit unpolished -- TV rookie explained that he became frustrated while practicing trying to pronounce some tricky names in his script, and that he had absolutely NO idea he was live on the air when he regrettably whispered, "F*cking sh*t."
"When I first saw the clip, it was gut wrenching," Clemente told a sympathetic Lauer and Guthrie, both of whom came up through the ranks of small-town local TV. "I didn't even know I said it on-camera until my News Director walked in on the third break."
When Lauer asked him to explain how he didn't know he was on live television, A.J. responded, "It's inexcusable first to even say those words…"
radar_embed service=5min.com src="http://pshared.5min.com/Scripts/PlayerSeed.js?sid=1126&width=570&height=351&playList=517755706&sequential=1&shuffle=0"
He then went on to explain that he was "looking down at my script. Van, my co-anchor, happened to be looking at the camera, and she noticed the red light come on.. We actually came on 30-seconds early… The London Marathon is my second story. There are literally three names I don't know how to pronounce at all…"
Article continues below advertisement
"So you're trying to pronounce them, you're practicing, and as you kept messing them up, you got frustrated.. and that's why that came out of your mouth," Lauer interjected.
"A fireball shot came right out of my mouth," A.J. joked.
Guthrie then explained that A.J. didn't have anyone standing in front of him to cue him that he was on the air, nor did he have an IFB, which is an ear piece that allows the control room to communicate with an anchor – both are standard fare in TV news.
A.J. explained since he was only three weeks into the job, his IFB hadn't been made yet since it has to be molded to fit properly in his ear. He says his co-anchor Van had forgotten her ear piece in her car.
Imagine The Humiliation! 12 More Really Embarrassing Celebrity Photos
"It was a big storm of everything," A.J. said.
He also said he holds no ill will against his former bosses who sacked him.
"I fully expected that they would fire me. I even called my News Director after and apologized again. No animosity at all," A.J. said.
He also said he's hoping for a second chance, and that another TV station will hire him.
"You have to have a tough skin in this business, and it's good to laugh at yourself," he added.
A.J. has a busy Wednesday – he's also appearing on MSNBC's Morning Joe, Live with Kelly and Michael, and The Late Show with David Letterman, which earlier this week, playfully poked fun at his mistake.
Visit NBCNews.com for breaking news, world news, and news about the economy