Travis Alexander Was 'Extremely Fearful Of His Stalker,' Claims Jodi Arias Prosecutor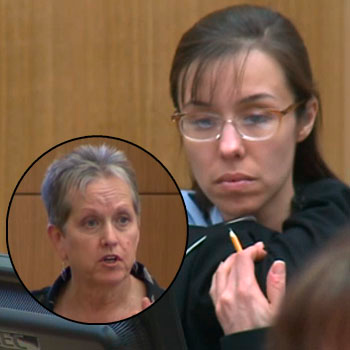 Was Jodi Arias an obsessive stalker who struck fear into the heart of the victim long before she stuck a blade into it?
That is the portrait that was painted by prosecutor Juan Martinez on day 44 of her death row murder trial.
Once again, defense witness Alyce LaViolette, a domestic violence expert, faced a brutal cross examination from Martinez, who presented an email saying that victim Travis Alexander was "extremely fearful" of his Arias, 32, who he described as a stalker.
Article continues below advertisement
The defense expert witness disagreed and at one point, even told Martinez he was "asking me very incomplete questions."
"You see the world as good or bad, Mr. Martinez... I see lots of shades of gray," she told him.
Following a number of antagonistic sidebars , Martinez asked again: "Isn't it true Mr. Alexander was extremely afraid of the defendant... because of her stalking behavior?"
GRAPHIC PHOTOS: New Crime Scene Images Revealed In Jodi Arias Murder Trial
The pit bull prosecutor went on to reveal how Arias once peeked in Alexander's window to see him with a woman un-hooking her bra, according to the Arizona Republic.
The tone of the testimony later spiraled downwards with the revelation that the day Arias allegedly found Alexander looking at photos of young boys, she wrote in her diary that there was "nothing noteworthy to report."
"Did LaViolette know that Cameron Diaz wore Spiderman underwear in Charlie's Angels?" Martinez asked, as he somehow tried to keep a straight face.
Following all the testimony of Alexander being hounded by Arias, defense attorney Jennifer Willmott charged: "Is it typical to let a scary stalker sleep next to you in your bed?"
The trial continues.
Be sure to stay with RadarOnline.com for regular updates and our daily live-stream.