#ThrowbackThursday: Go Back To A Time When Tori Spelling's Marital Problems With 'Soulmate' Dean McDermott Were His Farts!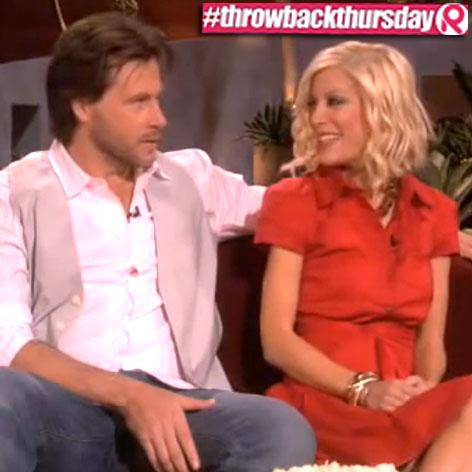 It's #ThrowbackThursday (or #TBT if you prefer), which means RadarOnline.com is taking a look back to move forward on some of today's hottest stories.
This week, we take you back to 2008, a time best known for economic collapses and "Rock Star" presidential candidates, and a time when Tori Spelling's biggest marital beef with husband Dean McDermott was the scent of his farts.
In an appearance on CBS News, the two cooed about their seemingly-blissful marriage, a virtual 180 in tone from the show currently documenting their crumbling marriage, True Tori.
Article continues below advertisement
Watch the video on RadarOnline
"We proved them all wrong," Tori crowed about their marriage, which was in its' third year at the time. "We're just meant to be; we make heaven for ourselves."
McDermott called himself and Spelling "soul-mates," noting, "We're just madly in love with each other. I wake up more in love with her every day … we're not close to divorce at all."
Watch the video on RadarOnline
The two, still very much in love, appeared on Ellen DeGeneres two years later.
"He farts all the time!" Tori said during an appearance with Dean promoting their then Oxygen show, Tori & Dean: Inn Love. Spelling added, "I don't like when you do the hotbox in bed, that's not fun."
Stay with RadarOnline.com for more Tori Spelling-Dean McDermott news as it breaks. True Tori airs on Lifetime Tuesdays at 10/9c.