Tom Cruise's New Sci-Fi Movie Oblivion – Watch The Brand New Trailer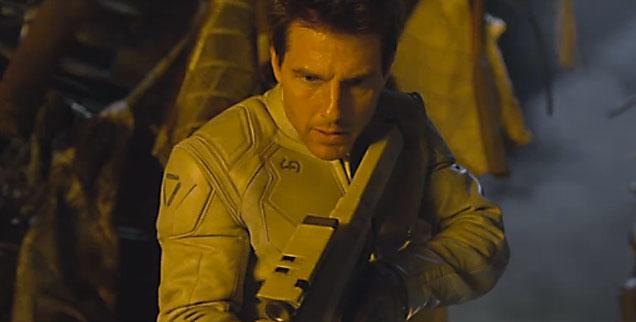 If anyone can do it, Tom can! Cruise's job is to save mankind in the new sci-fi thriller Oblivion – and RadarOnline.com has the just-released new international trailer for you.
The film, based on the comic book written by Kosinski and Arvid Nelson, is set in 2073, some 60 years after an alien invasion that destroyed Earth, and centers on Jack Harper (Cruise), a court marshaled ex-Marine Commander turned repairman stationed on what remains of the ravaged planet. His mission is to keep the security drones scanning Earth in working order, and in just two weeks, he's scheduled to leave the ruined world behind for a glorious city in the sky.
Article continues below advertisement
Jack thinks he's alone on this world, except for his mission's semi-sinister partner, Victoria, played by Andrea Riseborough). But then Jack stumbles across a discovery when he rescues a female stranger from a downed spacecraft, it shatters his world and could change the fate of mankind forever!
Watch the video on RadarOnline.com
Oscar winners Melissa Leo and Morgan Freeman co-star in the film, directed by Joseph Kosinski.
Oblivion will be released exclusively in IMAX on Friday, April 12, one week ahead of its wide release on April 19.