Tom Cruise Headlines Wal-Mart Shareholder Meeting: 'It's Hard To Believe Some Americans Have Little Food To Eat'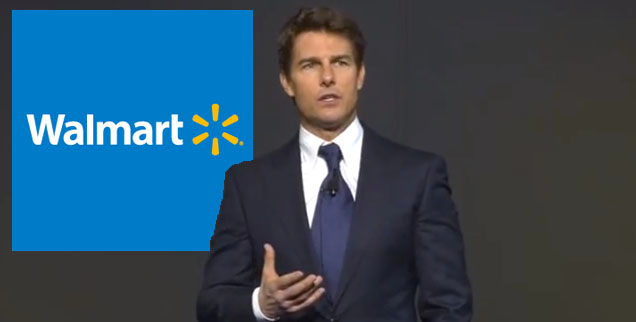 It was part revival, part Hollywood awards show and a little bit of a shareholder meeting.  Thousands of Wal-Mart shareholders and employees gathered in Fayetteville, Arkansas Friday and the star attraction was Tom Cruise.
Introduced by Hugh Jackman and following a performance by Jennifer Hudson, Cruise went through an eight minute dissertation on what Wal-Mart is doing for women and to end hunger.
"Women make a difference to this company," the Mission: Impossible star said.
Article continues below advertisement
There was no mention of the three anti-discrimination class-action lawsuits filed by women against the company, in Tennessee, Texas and California.
On the topic of hunger, Cruise said, "a great many people in America -- and this is very hard to believe - they have little food to eat."
According to the highly regarded organization, Feeding America, 50 million Americans -- that's one in six - don't have enough food.
And according to the U.S. House Committee on Education and the Workforce, Wal-Mart plays a role in that statistic.  A report titled  "The Low-Wage Drag on Our Economy: Wal-Mart's Low Wages and Their Effect on Taxpayers and Economic Growth," analyzed how the low wages typical of Wal-Mart drive its employees to public assistance.  In Wisconsin, for instance, a full quarter of its employees are in that position, according to the report.
Article continues below advertisement
California lawmakers are now even considering a bill that would fine Wal-Mart $6,000 for every full-time employee who ends up on Medi-Cal, the state's Medicaid program for the poor, according to The Los Angeles Times.
Wal-Mart has always vehemently denied it discriminates against women, and was successful in getting a national class action lawsuit thrown out in 2011.  The company also insists it pays all its "Associates" a fair wage.
According to Cruise, Wal-Mart "is a role model."
youtube