The Voice: Mentors Fight Over 2 Breakout Contestants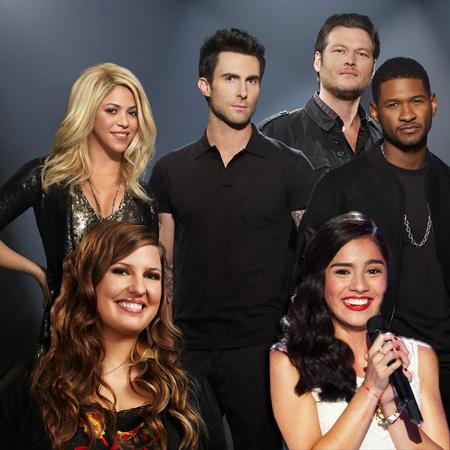 Two contestants made huge impressions with standout performances on NBC's The Voice Tuesday, and we've got the details for you right here on RadarOnline.com
Cathia, a 19-year-old business student from the Bronx, earned a standing ovation from judges Blake Shelton, Usher and Shakira after she delivered a rousing Spanish rendition of Luis Fonsi's "No Me Doy Per Vencido."
While the trio of judges coveted the chance to mentor her, Cathia ultimately chose Shakira, who sold herself to Cathia based on her own former mentor-protégé relationship with singer Gloria Estefan.
Article continues below advertisement
"You were phenomenal, you have a voice that can work in any language and I really, really want you on my team!" Shakira told her.
The other bright spot Tuesday was Memphis, Tenn. native Sarah Simmons, who wowed the judges belting out Joan Osborne's 1995 hit One of Us.
VIDEO: The Voice's Adam Levine On Christina Aguilera: 'We Bicker Like Brother And Sister'
In her vignette, Sarah opened up about her past, saying that music had been a big bridge in her relationship with her father, a recovering drug addict.
While all four judges vied for her services, she ultimately chose Adam Levine as her mentor. Adam was quite confident about his new prospect, telling her, "You 150 percent can win this show, I know you can -- I only fight for the ones I am dying to have, I know I can do this with you."
The hunky Maroon 5 singer said that "Sarah is not of this earth, the girl has got that thing, that talent, that beautiful quality that you have either got or you don't."
The Voice airs on NBC Mondays and Tuesdays at 8/7c.