RHONJ Season 5 Premiere: Feuding Teresa And Melissa Reunite At Strained Playdate For Daughters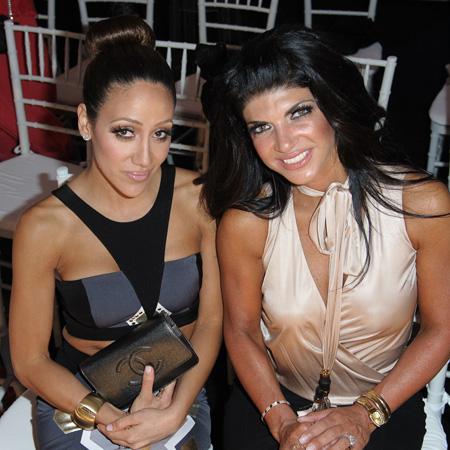 Did Hurricane Sandy sweep away Hurricane Teresa?
That was what The Real Housewives of New Jersey fans were wondering as Sunday night's 5th season premiere showed Teresa Giudice temporarily setting aside her feud with sister-in-law Melissa Gorga so their daughters could share a playdate -- after both families suffered property damage during Sandy seven months ago.
Still, Teresa's husband Joe Giudice couldn't resist ripping Melissa, telling his wife during the episode she was "horsey face," a "stank ass" and "beyotch!"
Article continues below advertisement
As the new RHONJ season commenced, the ladies were dealing with the fallout from Hurricane Sandy, as both the Giudices and Gorgas were shocked to find their vacation homes covered in muck. Teresa claimed the crisis brought her and husband Joe together after last season's apparent marital problems. But Teresa revealed that her brother, Joe Gorga, hadn't even called her during the hurricane! Teresa said whenever her brother decided to come back to her, however she'd welcome him back. Meanwhile, however brother Joe was sad she hadn't called HIM: "Teresa doesn't give a s---," he said.
After Teresa and her daughters picked out clothes and toys to give away to those suffering after Sandy, grateful it had only affected their vacation home, young Milania asked her mom, "Don't you miss your brother?" Meanwhile, Melissa's daughter Antonia decided to write a letter to her cousin Milania. Still angry about Teresa calling her a stripper last season, Melissa put her feelings aside to send her niece Milania the letter anyway.
Article continues below advertisement
Later, after Milania received the sweet letter from Antonia, Teresa suggested they invite Antonia over for a playdate, even though she thought her mom Melissa wasn't big enough to apologize for their past battles.
When Teresa went shopping with her daughter Gia, 11, the precocious girl wrote a text for her mother to send to Melissa setting up the play date. Then, during a strained meeting at a bead store, where Milania and Antonia met to make bracelets, the two little cousins, who hadn't seen each other in a year and a half, hugged and then incredibly, Melissa and Teresa followed suit. Teresa and Milania were finally able to give Antonia her birthday gift, an iPod. Although Melissa was disturbed about the expensive present, they accepted it.
Later, Teresa rolled her eyes when Melissa got control freakish with her daughter while they made bracelets. Teresa declared in her confessional, "let them f---ing be kids!" Making things even more strained, the housewives discovered they both had chosen May 11 first communion dates for their daughters--and one woman would have to change it for the sake of their families being able to attend. Teresa said she'd try to be the bigger person and change Milania's communion. "I want it to be a real family," Teresa vowed in her confessional.
Article continues below advertisement
Meanwhile, Caroline Manzo had coffee with Joe Gorga and the housewife, who famously fell out with her own sister, Dina Manzo, told him he was doing the right thing in bringing the kids together and also suggested herself as a peacemaker. "I"m willing to go talk to your sister" about mending family fences, she said. Although Joe Gorga feared getting hurt by his volatile sister Teresa again, Caroline vowed to help him.
"She's that sister I've never had--I don't have that with my own sister," an emotional Joe said of Caroline as the episode ended.
radar_embed service=bravotv src="http://www.bravotv.com/video/embed/?/_vid2650964" width="400" height="225"