Teresa Giudice Gives Melissa Gorga A Bizarre Birthday 'Peace' Present…A Thong!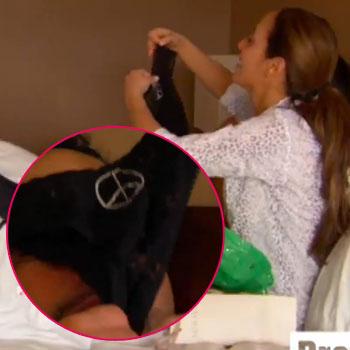 Happy birthday, Melissa Gorga!
In the upcoming episode of The Real Housewives of New Jersey, Melissa gets two special birthday gifts — one of which is a thong from her sister-in-law nemesis, Teresa Giudice.
After receiving an equally shudder-worthy gift from her husband Joe Gorga, an unwelcome lap dance, Giudice busts into their bedroom to deliver her "peace" present, which is simply a skimpy thong with the word "peace" written on the rear.
Article continues below advertisement
Gorga is disturbed by the gift, telling the cameras, "I think the 'peace' panties are a little weird. Maybe she is trying to make her brother happy?"
She then mocks Giudice: "I was thinking of my brother, that's why I gave you those panties. I'm a good sister."
"It's going to take more than a pair of panties with a peace sign on there to fix what we've got going on," she concludes.