Teresa Giudice Accuses Brother Joe Gorga Of 'Disrespecting' Their Father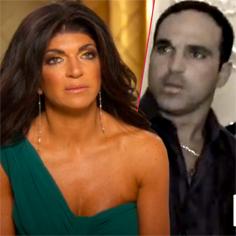 In the upcoming episode of The Real Housewives of New Jersey, Teresa Giudice and Joe Gorga's father finally leaves the hospital after a near-death health scare only to return home and find his children still fighting.
But instead of trying to settle the family discord, Teresa blames her brother for all of the drama in a preview for the new episode.
"I'm really happy that my dad's out of the hospital," Teresa tells the cameras after he father arrives at her house to do some cooking. "I just love him being around."
Article continues below advertisement
Teresa may be happy that her dad is home, but she is still upset that her brother is not part of the picture and implies that the way he is behaving is disrespectful to their parents.
"My dad raised us with a lot of respect," she says. "I would never raise my voice at my father, but I've seen my brother do that with my father and with me."
The video then cuts to a scene of Joe screaming at Teresa and then arguing with their father.
Teresa just wishes that this fighting would stop and that her brother would show a little appreciation towards their dad.
"My parents mean the world to me," Teresa says. "They're all I have."
She adds, "And with my dad's health being so bad, my brother and I should be getting along. It's disrespectful."