Old Feuds Die Hard, As Bad Blood Between The Giudices & Gorgas Boils Up Again On RHONJ Reunion Show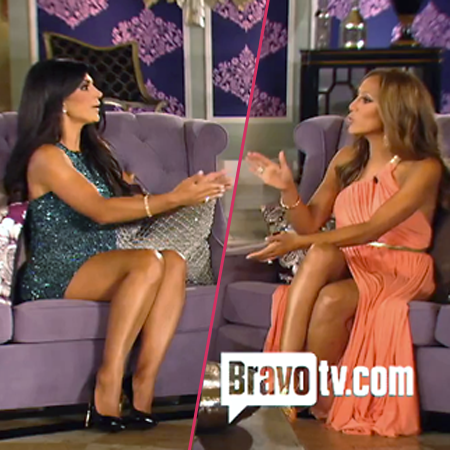 Indictment-plagued Real Housewives of New Jersey stars Teresa and Joe Giudice will soon face the mother of all court battles.
But apparently they've been going through the scandal without much support from her brother, Joe Gorga, and his wife, Melissa.
During the RHONJ Sunday night reunion show, the two couples -- who finally appeared to have buried the hatchet this season -- confirmed to host Andy Cohen that they actually hadn't seen each other all summer!
Article continues below advertisement
A sour-faced Melissa shrugged about them getting together, "I tried it five times, but I believe they were going to their own shore house. I would have loved if it would've happened."
Then, Teresa admitted no family get-togethers had happened.
"It takes two," the Giudice matriarch said. "We both have to meet each other halfway."
But in a tense moment with her brother Joe that's been a staple of the show, Teresa complained about his temper, telling him, "I'm afraid of you."
While Teresa and Joe face 39 counts of financial fraud after getting indicted this summer, it seemed during the reunion show that Teresa's co-stars indicted her -- on charges of being a bad sister, sister-in-law, and friend!
As RHONJ fans well know, Teresa has been the linchpin of trouble all season. And during the reunion, although they told host Andy Cohen that they were supporting Teresa and Joe through their legal scandal, the claws came out.
Article continues below advertisement
"You attack at the jugular," Teresa's sister-in-law Melissa Gorga fumed to her.
It was clear Melissa, sporting a new blonde hairdo since winding up RHONJ season five, was still smarting about how Teresa had let poisonous friends like Kim D, Jan, and Penny imply that she had cheated on her husband (who had a shaved head on the reunion show).
Melissa couldn't believe Teresa had not defended her sister-in-law against the women; to Melissa, Teresa should have gotten up and flipped a table in her honor.
"She doesn't like me and it shows," Melissa said.
Teresa insisted, "I love you."
Melissa was particularly upset that Teresa took pot shots at her singing career as she's been trying to record a song called "Never Let Me Go" at age 34.
"You're bashing my music," Melissa said. "What does age have to do with it? It sucks."
Meanwhile, Teresa took issue with the fact that Melissa talked about her father's past in her recent marital advice book, something Teresa was completely unaware of: "I'm her family and I don't know about this. It was kind of weird hearing about it on TV for the first time."
Article continues below advertisement
Still, Teresa was outnumbered on the TV therapy session, which also featured a guest appearance by Dr. Venus Nicoloni, who had helped the Jersey crew with counseling this season.
This time around, Dr. V. suggested Joe Gorga should get anger management, an idea that was not well-received by Teresa's bellicose brother.
Caroline Manzo slammed Teresa, wondering why she had written a negative blog about her.
"That was a lie. Why did you write that? You stink," she snapped at Teresa.
Still, it appeared Teresa was pleased her co-stars supported her after the indictment scandal broke.
"They all reached out to me. I've gotten tons of support. It's touching," Teresa said.
Melissa said she was surprised about the court case, saying, "Nobody expected it."
"What happened to me could happen to anyone," Teresa claimed.
Article continues below advertisement
As RadarOnline.com has previously reported, Caroline implied during the reunion show that her husband Al might have cheated on her.
But in a convoluted way, Caroline finally told Andy on Sunday night that Al was faithful after all!
"He said 'No.' Do you think I'm going to put up with that in my life?"
But Caroline also admitted she let Al go to strip clubs -- with her, along for the ride!
"I've gone to strip clubs and had lap dances with my husband sitting right next to me," Caroline claimed.
For their part, Teresa said Joe Giudice has never been unfaithful to her, despite the women who have been rumored, and Melissa said she didn't worry about her Joe running off with his secretaries -- "because I picked them all!"
Despite being the voice of sanity on RHONJ this season, Caroline said she won't reconcile with her own sister, Dina Manzo.
But she wouldn't explain why on Sunday night.
"My decision to keep this out of the press will remain that because I can see the harm," said Caroline, who's getting her own Bravo reality show spinoff.
Article continues below advertisement
Meanwhile, on the Wakile family front, Kathy, whose husband Rich has been knocked for male chauvinism, defended him, saying he's 100 percent behind her.
According to Kathy, Rich's tweets that insult female viewers are a defensive reaction.
"They've already attacked his family," Kathy claimed.
Jacqueline Laurita, whose storyline about her autistic son, Nicholas, touched viewers this season, wiped away tears when she talked about him.
"He's starting to spell words now but there are days where it's hard to watch him struggle because he works so hard for those accomplishments."
Andy pointed out, however, that many viewers thought she was exploiting her son.
"I call it raising awareness," Jacqueline said, adding that she had learned vital information from other moms of autistic kids.
Jacqueline also had no problem talking about her plastic surgery, which was featured this season.
Article continues below advertisement
Fans saw her get a tummy tuck and a neck lift in Beverly Hills. Jacqueline admitted to Andy she's also had a boob job, nose job, and has had Botox and other fillers.
Watch the video on RadarOnline.com
Andy asked the other housewives if they'd had more procedures than Jacqueline, and they all said no.
"Okay, I win!" Jacqueline laughed.
But Jacqueline was less forthcoming when it came to her husband Chris Laurita and Caroline's estranged sister, Dina Manzo (who, as RadarOnline.com has reported, might come back to RHONJ next season).
Has she reached out about Nick? Andy asked.
"No," Jacqueline said.
However, Jacqueline did admit, without elaborating, that Dina had hurt her more than her frenemy, Teresa, who is now close to her again.