Tearjerker: Heartbroken Parents Of Young Tennessee Girl Who Unexpectedly Died Discover Touching Letter She Wrote To Future Self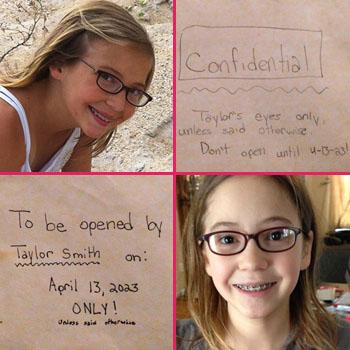 Just days after a 12-year-old girl passed away unexpectedly from complications with pneumonia, her grieving parents have discovered something that is providing remarkable comfort to them and their family.
Before she passed, Taylor Scout Smith — who died Sunday of pneumonia in Johnson City, Tenn. — wrote a letter to her future self, placing it in a box in her bedroom.
It wasn't intended to be open for at least 10 years, or when she turned 22.
Article continues below advertisement
But her grieving family found the note and as they coped with the unimaginable tragedy, they opened their loved one's missive.
On the front, the letter read: "To be opened by Taylor Smith on April 13, 2023 only unless said otherwise."
It said:
"Dear Taylor, how's life? Life is pretty simple 10 years in your past, I know I'm late for you, but I'm writing this early, so congratulations on graduating high school, if you didn't, go back and keep trying, get that degree… Do you have your own place yet? If we're in college what are we majoring in? Right now I want to be a lawyer."

The letter goes on with words of wisdom and advice remarkably from someone expected to be beyond her twelve years.

The last line reads, "Well, I think that's all, but remember it's been 10 years since I wrote this. Stuff has happened good and bad, that's just how life works and you have to go with it."
On Jan. 8, friends and family of 12-year-old gathered to celebrate her life.
"Initially it's shock, and waves of depression, and hoping that it's not real, and hoping that every time you take a nap or go to sleep you find out it wasn't real," Taylor's dad Tim Smith told WJLH-TV.
"If it's God's time, it's God's time, and he loved her more than we could ever love her. So much so that he said 'come on.'" Smith said.
"A lot of people are probably wondering why it's so easy for a father whose just lost his daughter to say something like that, to not curse God, to not hate God, the only thing I can say is that right now it's easy for me to trust God because my baby girl trusted him."
Watch Taylor's dad read the letter: