RHOC's Tamra Barney Admits 'I Have Anger Issues' After Dinner Party From Hell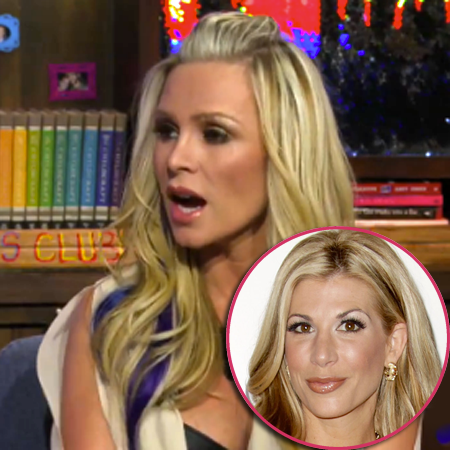 Tamra Barney -- following Monday night's Real Housewives of Orange County, in which she told Alexis Bellino to "get the f*ck out" of her dinner party -- appeared on Bravo's Watch What Happens Live, and admitted that she has "anger issues."
As RadarOnline.com previously reported, the OC rivals clashed after Vicki Gunvalson brought Alexis to the bash, held to commemorate the opening of Tamra's new gym. While Tamra seemed content with Vicki's decision of a plus one at the outset, seeing Alexis in person seemed to bring out her claws, resulting in a confrontation in which Alexis called her a bully.
Article continues below advertisement
On Watch What Happens Live, Tamra said at the time, she was trying to rebuild bridges with Vicki -- and had reservations about letting her bring Alexis — but did so in hopes of moving on from any past bad blood.
"I wanted to make Vicki happy," she said, admitting when she saw Alexis, her temper got the best of her.
"I had to be honest with her and say, 'Why are you here?'" she said.
Asked later if it's possible for she and Alexis to salvage a friendship, Tamra said, "I have this tough exterior -- and there's a reason why I have it -- but I have a soft heart.
Appearing alongside was mental health professional/reality star Dr. Venus Nicolino, who said she feels Tamra has issues with negotiating, assertiveness, and aggression, which Tamra agreed with.
When a caller named Denise asked Tamra if she'll ever be happy with herself -- and "stop being such a mean girl" -- Tamra's aforementioned anger reared its' ugly head again.
"The difference between you and I is that I don't play the victim … I'm on a reality show and I'm paid to speak my mind and I did that, so am I happy with myself?" she said. "I am so frickin happy -- but Denise, are you happy with yourself that you have to call in and ask me that?"
We lost the caller, host Andy Cohen said, diffusing the situation.
Watch the video on RadarOnline.com
The Real Housewives of Orange County airs on Bravo Monday at 8/7c.