Take That Oscar Voters! Argo's Ben Affleck Wins Best Director At Critics' Choice Awards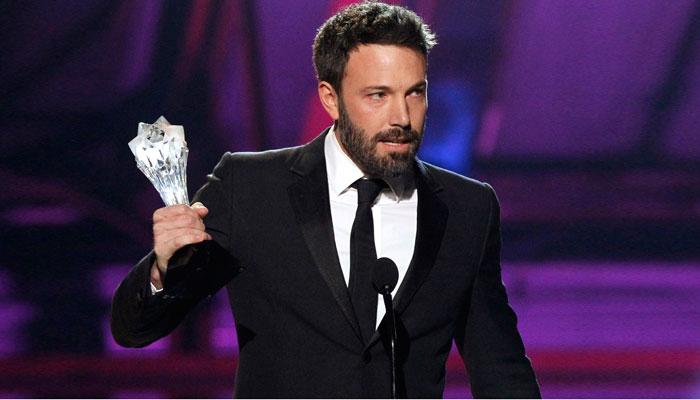 It was a bittersweet Thursday for Ben Affleck, as the Argo director was snubbed when Academy Award nominations were announced in the morning, then named the best director at the 18th annual Critics' Choice Movie Awards that night.
Ben joked he'd "like to thank the Academy" in his acceptance speech at the ceremony in Santa Monica, as Argo was also named the best picture at the event.
"I'm kidding, I'm kidding. This is the one that counts," Affleck said. "It's very, very cool for me … there was a time that a Ben Affleck critics' award was a Saturday Night Live sketch."
Article continues below advertisement
Argo Thursday tallied up seven Academy Award nominations, with the exception of a best director nod for the Boston-bred Affleck.
Other notable winners on the night were Lincoln's Daniel Day-Lewis (best actor), Zero Dark Thirty's Jessica Chastain (best actress), The Master's Philip Seymour Hoffman (best supporting actor) and Les Miserables' Anne Hathaway (best supporting actress)
Watch the video on RadarOnline.com
"This has been one of the greatest unforeseen privileges of my life," Day-Lewis said of his titular role in the Steven Spielberg film.
KTLA-TV entertainment reporter Sam Rubin hosted the show, which was held at the Barker Hangar in Santa Monica. The Critics' Choice Movie Awards are traditionally regarded as a keen predictor of the Academy Awards.
Full list of winners:
Best Picture: Argo
Actor: Daniel Day-Lewis
Actress: Jessica Chastain
Supporting Actor: Philip Seymour Hoffman
Supporting Actress: Anne Hathaway
Young Actor/Actress: Quvenzhane Wallis
Acting Ensemble: Silver Linings Playbook
Director: Ben Affleck
Original Screenplay: Quentin Tarantino
Adapted Screenplay: Tony Kushner
Cinematography: Claudio Miranda (Life of Pi)
Art Direction: Sarah Greenwood/Katie Spencer (Anna Karenina)
Editing: William Goldenberg/Dylan Tichenor (Zero Dark Thirty)
Costume Design: Jacqueline Durran (Anna Karenina)
Makeup: Cloud Atlas
Visual Effects: Life of Pi
Animated Feature: Wreck-It Ralph
Action Movie: Skyfall
Actor in an Action Movie: Daniel Craig
Actress in an Action Movie: Jennifer Lawrence
Comedy: Silver Linings Playbook
Actor in a Comedy: Bradley Cooper
Actress in a Comedy: Jennifer Lawrence
Sci-Fi/Horror Movie: Looper
Foreign Language Film: Amour
Documentary Feature: Searching for Sugarman
Song: Skyfall
Score: John Williams