Best Break Up Video Ever! Woman Dumps Boyfriend After He Pushes Her Off 400 Ft. Canyon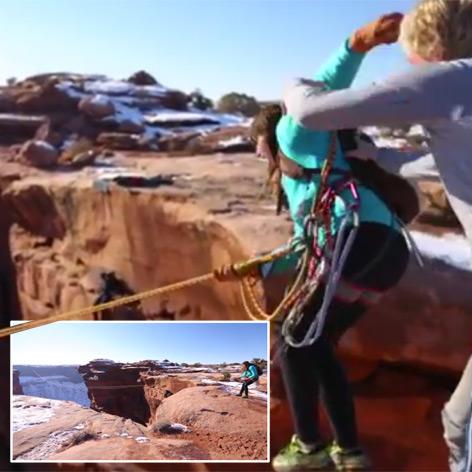 Jessica Powell took the plunge and broke up with her boyfriend after he pushed her off a 400ft cliff and it was all caught on video.
Daredevil Creighton Baird had spent 45 minutes coaxing Powell to the edge of a narrow canyon in Utah so she could go through with a terrifying rope swing.
Although she appeared to be securely attached to the rope, Powell failed to muster up the courage and Baird finally took it upon himself to shove her off!
Article continues below advertisement
Jessica had what some are saying was the good sense to dump her pushy beau mid-fall.
The video - which has gained over 4 million views - sees Powell letting out a series of terrified screams before yelling "I'm breaking up with you!"
Baird responded by laughing so hard, he rolled on the ground.
He was just one of several people who jumped as part of a stunt for a YouTube video by cinematographer Devin Graham and after completing the fall he was keen to get his girlfriend to experience the adrenaline rush too.
He says she later thanked Baird for the push.
"She came up and gave him a big hug and thanked him for pushing her off ," Graham claims.
They did break up," he confirmed, while insisting it "had nothing to do with getting pushed off the rope swing."
Sure.
Do you think this video was real or staged? Tell us in comments, below.
youtube