Spring Breakers Gone Wild! Students' Shocking Drunken Debauchery Caught On Camera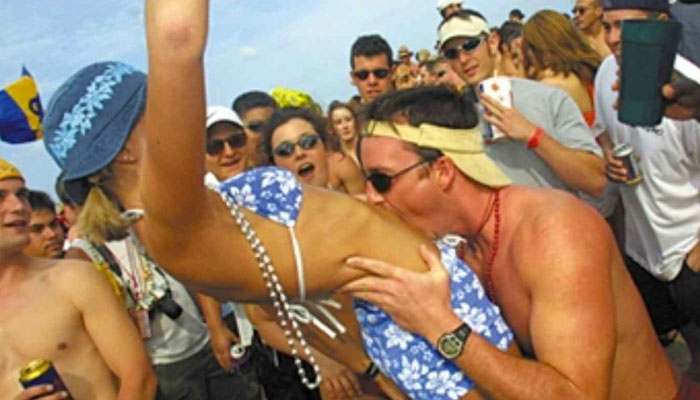 What happens on Spring Break, stays on Spring Break…or not, because some of the most wild and shocking moments were caught on camera.
More than 60,000 college students spend their annual break from class on South Padre Island in Texas (which only has 2,800 permanent residents) for what the Travel Channel calls "the biggest beach party on the planet" and things got so out of control that a mobile hospital with 32 beds was needed to cope with the drunken carnage.
Article continues below advertisement
Many of the partiers, some of whom were underage, consumed so much booze that they collapsed or overdosed on popular party drugs like ecstasy.
Half naked and adorned with beads you'd usually see during Mardi Gras, many of the college students were snapped drinking liquor off each other's bodies, doing beer keg stands, making out with random strangers and passed out on the beach.
T-shirts being sold on the beach feature slogans like, "Don't tell your madre what happened in Padre" and "You only live once."
The South Padre Department of Public Safety claim there were 1,000 DWI arrests during last year's Spring Break, 1,500 seat belt-related offenses, 9,400 speeding citations and 12,500 other citations — including 545 fugitives who were arrested and 402 felony arrests.
"We had some military guys here who served in Iraq and they said they had never seen anything like this," an EMT on the scene told the Daily Mail.