Sochi: Day 5 Brings Shaun White To Forefront, Bob Costas To Sidelines With Eye Infection, As Winter Games Trudge On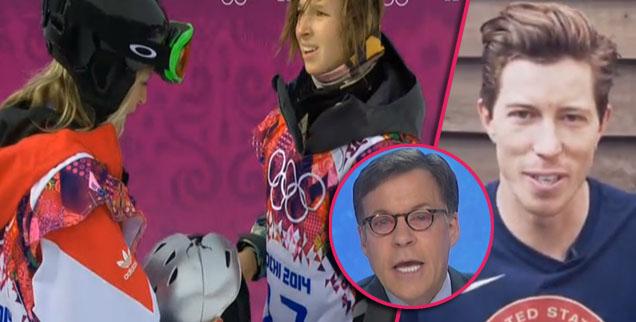 We've got all the latest updates from the Winter Olympics in Sochi, right here on RadarOnline.com.
U.S.A.
The United States remained in fourth place early Tuesday with two gold medals (snowboarders Sage Kotsenburg & Jamie Anderson), one silver, and three bronzes. Canada remains atop the leader board with four gold medals, three silvers and two bronzes, while host Russia is in sixth with one gold, two silver and three bronzes.
Article continues below advertisement
"Bob has a very serious case of viral pink eye," a source at NBC told Radar. "While everyone was joking about it at first, it's turning out to be no laughing matter now. It's spread to his right eye and the NBC doctors have been consulting eye doctors back in New York City. Bob literally can't see anything farther away than five feet. He is getting prescription eye drops, but sadly, it's going to get worse before it gets better. There are concerns that his vision could suffer long-term, including developing a stigmatism in an eye."
Article continues below advertisement
Watch the video on RadarOnline.com
Visit NBCNews.com for breaking news, world news, and news about the economy
Ready To Rumble
U.S. gold medalist Shaun White, on the precipice of making history when he participates in Tuesday's half-pipe contest, admits he's on pins and needles as he tries to become just the seventh Olympian ever to win three consecutive gold medals in the Winter Games. "I go up and down -- I'm excited, then I'm not excited because I'm, not nervous, but just kind of antsy," the red-headed superstar of the snow said in a video. And it builds and snowballs into other things, and it's just a lot of mixed feelings rolled up into one. It's the day before the big day." The 27-year-old San Diegan hailed his fans for their unrelenting support throughout his endeavors on the snow. "You're the best: You support me through the decisions I make, the training regimen. You show up to the contests. You watch it on TV, and I feel it. I want to do my best, not only for myself but for you guys. Wish me luck and here we go."
Watch the video on RadarOnline.com
Chill On Call
Citing concerns about warming temperatures melting snow crucial to the competitions, Olympic organizers said Tuesday that more than 25,000 cubic feet of snow (saved from prior winters) has been stored in reservoirs, should the day's climate call for it. Sochi organizing committee head Dmitry Chernyshenko told the AP of the snow: "We don't need it now; we didn't start our backup plan yet," adding that the rising temps -- as much as 52 F on Tuesday -- are not "a big surprise" for the local populace. He said, "We're a sub-tropical city. We tested our mountain venues for the couple of previous winter seasons … we hope that no extra measures are needed."
Viral Videos
Unsurprisingly, the numerous crashes and wipe-outs have made for some of the most-frequently watched TV clips during the games, according to stats from TiVo. Three of of Sunday's most-watched moments, the company said, were crashes from snowboarders Aimee Fuller (Britain); and Ty Walker and Jessika Jenson (USA). The train-wreck mentality was well in effect over the weekend, when much social media attention was paid to Czech Republic snowboarder Sarka Pancochova, after her nasty spill that wound up cracking her helmet.