Snowmobile Superstar Caleb Moore Cheats Death In Horrific Accident At Winter X Games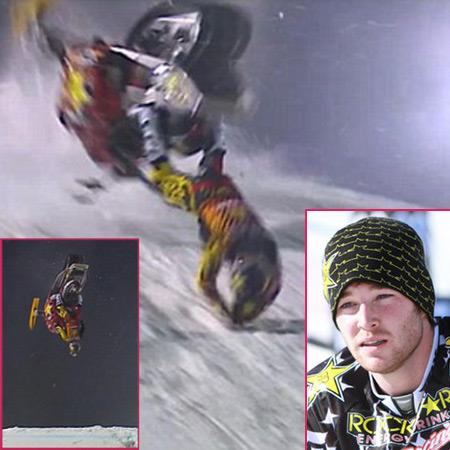 Caleb Moore, one of the superstars of the pro snowmobile circuit, had to have emergency heart surgery on Saturday following a devastating accident during the Winter X Games where his 450-pound snowmobile landed on top of him.
At the scene on Thursday, it was initially thought he had only suffered a concussion following the incident but after being transported to Aspen Valley Hospital for a thorough check up, it was discovered there was bleeding around his heart.
Article continues below advertisement
That led to a transfer to St. Mary's Hospital in Grand Junction, Colorado where Caleb underwent emergency surgery for a heart contusion. He is currently recovering in the ICU.
Incredibly, moments after his crash, Caleb's bother, Colten, 23, crashed on the same spot and was treated for a separated pelvis.
Both accidents drew gasps from crowds.
Caleb went first, mistiming an in the air backflip and landing head first into the snow.
An ESPN news anchor said: "Caleb…came up short on an in the air backflip when he under-rotated the backflip in the Snowmobile Finals.
"His skis dug into the snow. He flipped to the ground and his snowmobile came over on top of it."
According to the Denver Post, moments after walking away from the accident Caleb told his brother: "I feel like I just had the longest dream ever."
Thirty minutes later Colten crashed trying to make the same jump.
Both brothers have suffered multiple injuries during their careers including concussions, several broken bones and teeth that have been knocked out during their high-risk adventures.
RELATED STORIES: