Dirty Dancer Rihanna Gets Wild On The Stripper Pole For New Music Video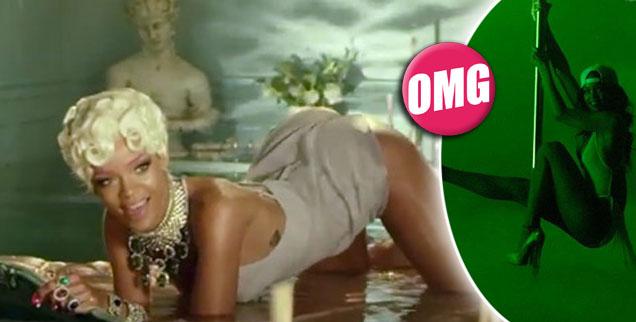 No stranger to the strip club, Rihanna hopped up on the pole herself for the first time during a recent video shoot for her song, "Pour It Up," and shared the steamy snaps on Instagram.
"My first pole lesson!" RiRi happily posted on Wednesday morning.
"Am I getting it?" she captioned another shot.
Making sure the singer didn't completely embarrass herself was famed pole dancer Nicole "The Pole" Williams, who owns a pole dancing and fitness center, Allure, in L.A.
Article continues below advertisement
"Pole dancing is a powerful movement and I absolutely love how empowered and confident my clients feel after their first class," Williams writes on her website. "Pole dancing is no longer a hidden art form. We're taking it out of the strip clubs and bringing it to the average woman in a classier, sexier, and intimate environment where any woman can feel comfortable with herself."
Indeed, Rihanna's choreographer insisted that the video will be sexy, not sleazy. "I know when you listen to the song, you think instantly, 'stripper,' which it is," Othan "Otheezy" Burnside said on set. "But I think it's gonna be very artistic, the way they're gonna shoot it. It's gonna be very very sexy in a way that has never been done before and I think that's what's gonna make this video very very special."
Watch this behind-the-scenes video of the video shoot and see if you agree.
WARNING GRAPHIC CONTENT:
youtube=https://www.youtube.com/watch?v=ka_TH6_H7PA&w=420&h=315