RHOC Cat Fight! Alexis Bellino Pleads, 'Stop With The Bullying!' Tamra Barney Rips Into Her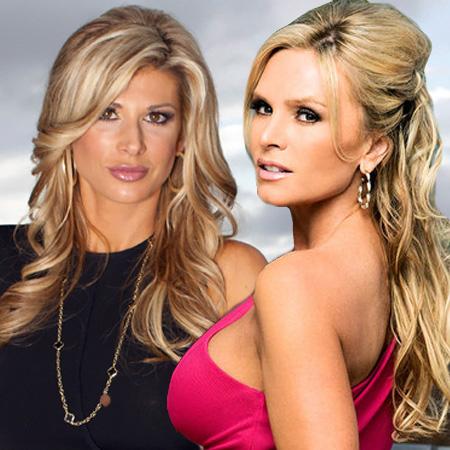 The fur was flying Monday night when the Real Housewives of Orange County got into an epic cat fight, and RadarOnline.com has all the explosive –and juicy -- details.
Alexis Bellino attended a dinner party at Tamra Barney's new gym, and it was painfully obvious that she wasn't welcome -- leading Tamra to eventually yell at Alexis to "get the f*ck out!"
Notably absent from any functions that the ladies have had for a number of months, Alexis was ready to re-enter the scene with a vengeance which had Gretchen Rossi more than a bit baffled.
Article continues below advertisement
"It's like going to the school table with the kids that keep bullying you and keep taking your lunch money, and you keep going back and sitting at the same table," Gretchen said.
"It's like don't go sit at the table anymore! Learn your lesson. You're asking for it."
Tamra also couldn't figure out why Alexis was coming around via Vicki Gunvalson.
"When Vicki called me and said that she wanted to invite Alexis, I seriously thought it was a joke," Tamra said. "So today, I'm nauseous, I'm feeling anxious…there's nothing about her that I want here.
"There she is, the girl that wants to sue me," Tamra went on. "Walking into my business, and I'm allowing it. I'm starting to feel really stupid."
And even though the newest housewife Lydia McLaughlin hadn't been around all the ladies before, she certainly picked up on the animosity.
"The room to me feels very obviously everybody's friends, and us three right here on the couch are not allowed to sit with the cool girls," she said.
Article continues below advertisement
It didn't take long for Tamra to open her mouth and ask the question that was on everyone's mind.
"I have to be a hundred percent honest," Tamra said to Alexis. "I just don't understand why you wanted to come here."
Alexis replied, "If you didn't want me to come Tamra, you could have simply said no. I don't want to ruin it for all these people."
"Alexis is not an evil person," Vicki jumped in. "She has a soul, she has a heart, she's blessing your business."
"I'm not going to do this right here, right now," Alexis argued. "I'm not going to sit here and be ganged up on once again by everyone else. Stop with the bullying!"
Tamra interrupted, "This is a night that I wanted to be with my closest friends. I think I'm very gracious to allow you to step foot in here tonight."
"Tamra butt out!" Alexis yelled.
That was the last straw for Tamra, who jumped out of her chair and headed straight for Alexis.
"You get the f**k out! You get out!" Tamra screamed. "Vicki you can choose your side right now! If you're going to side with her, then you get the f**k out too! Done!"
Watch more of the drama unfold on the Real Housewives of Orange County Mondays at 8/7c on Bravo.