Rebecca Sedwick Death: 5 New Developments In Landmark Bullying Case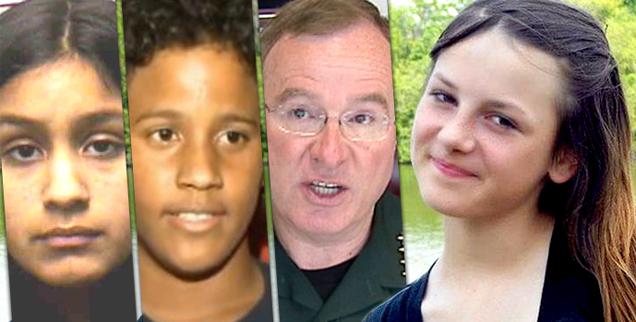 The arrest of two Fla. girls on felony aggravated stalking charges linked to the Sept. 9 suicide of 12-year-old Rebecca Sedwick continues to rock the nation to its' very foundation -- and might change policy in future cases, moving forward -- and we've got five new developments for you, right here on RadarOnline.com.
1. Man In The Middle
As we previously reported, Guadalupe Shaw, 14, and Sedwick's one-time pal Katelyn Roman, 12 were arrested after Shaw boasted in a Facebook post she "didn't give a f**k" about the child's death. The rift had started, according to authorities, over a boy they both were dating, 13-year-old John Borgen. Borgen, speaking with ABC News Thursday, said he wishes he "could have stopped it," and that he thinks about Rebecca "almost every day." Borgen said he had "mixed feelings" about Shaw, his one-time girlfriend, at this point. "One day tells me I'm tired of all of this bullying," he said. "This part tells me every day I'm tired of the bullying, because I don't want to see it again. But at the second part, it's like, I still don't believe that she did it. But the fact is that she still bullied her, she should never have done it."
Article continues below advertisement
Watch the video on RadarOnline.com
2. New Gun In Town
Polk County Sheriff Grady Judd has broken new ground in ordering felony charges against (and subsequent exposure of) the alleged young tormentors in an effort to make a bold statement about the bullying epidemic in both the schools and on social media. "Obviously, this had progressed from bullying to stalking," Judd said at a news conference Thursday. "It is a repeated term of harassment that causes emotional distress." He said of Shaw: "After her outrageous Facebook rants, we had to take her into custody … most everyone in this country has been bullied at one time or another. Everyone understands the torment and the fear and the angst of being bullied. Everyone can identify -- they have a 12-year-old daughter or a 12-year-old son or they have been a 12-year-old. The thought that this child, who was already fragile, would leap to her death, affects us all."
3. First He Got Off George Zimmerman, Now …
Mark O'Mara, George Zimmerman's defense attorney, said Thursday on his blog he's working on legislation that would hold the parents of bullies liable in case, saying that turning a blind eye or being negligent regarding their child's behavior is the crime authorities should focus on. "I think it should, and here's why: if a child kills someone while operating a parent's car, the parents can be held responsible," O'Mara said. "If a child kills someone while using a parent's gun, the parent can be held responsible. If a child breaks the law using a computer or cellphone provided by the parent, how is that different? If parents are not going to assume this responsibility on their own, and it seems like the parents in this case are not, then I would support legislation that places legal responsibility on parents, making them liable for what the children do with the online access parents provide," O'Mara wrote. "I am drafting a proposed law that would give Sheriff Judd the 'obvious charges' needed to hold parents accountable."
Article continues below advertisement
4. The Dog Ate Her Homework
Shaw's parents Jose and Vivian, sitting down with CNN's Chris Cuomo, swear their daughter's Facebook account was hacked at the time the callous "IDGAF" sentiment was posted, spurring the domino effect of arrests. "I grabbed the computer and took it to my room, and the only other thing she could have used to send this message was this cell phone, and my cell phone is always with me," he said. Added the mother: "I always check her Facebook. I know her password. If the offensive messages were there, we didn't see it."
Watch the video on RadarOnline.com
5. Circle Of Hate
Despite her young age, Guadalupe Shaw was the focus of many hate-filled tweets from users following the story. One user, @HeavyMetalStrat, said that Shaw "looks like a walking experiment for herpes, hepatitis and meth." Another, @DCesar5, called her "a vicious, stupid b***h," while @simonebosco118 called her a "disgusting c**t" with "a disgusting family."