New 'Housewives' Franchise? Women Audition For 'Real Housewives of Oklahoma City'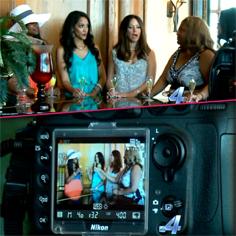 Move over New Jersey and Beverly Hills, the women of Oklahoma could be coming to a screen near you.
On June 27, auditions were held for a tentative new reality show: The Real Housewives of Oklahoma City. According to KFOR-TV News Channel 4, Bravo is "interested" in this new show idea that was pitched by Los Angeles Producer Annette Latham — and the Oklahoma gals are lining up to be the next Lisa Vanderpump or NeNe Leakes.
Article continues below advertisement
"We want to see how they talk," Annette said. "How they are on television and do they photograph well."
The casting directors were reportedly looking for women who have made names for themselves in Oklahoma City.
According to footage of the auditions, one of those ladies is Eva Aranda, who is a married to a musician and has her own beauty company, Beauty by Eva.
Another woman, Carol Hefner, ran for state senate.
During the auditions, the women were asked to perform for the camera in made-up scenes.
One shot, even shows a group of women gossiping around a huge dining table.
Sound familiar?
It should.
The teaser role for the first housewives series ever — The Real Housewives of Orange County — was filmed in Vicki Gunvalson's own backyard.
But, it remains to be seen if these Oklahoma City gals have the pizazz they need to make Bravo offer them an official deal.
Unfortunately, Bravo doesn't always bite as a production company formerly learned with a group of women in West Palm Beach, Fla.