Porsha Stewart Won't Leave Mom's Nest, Turns Up Her Nose At 'Teeny Tiny' Closets While Shopping For New Condo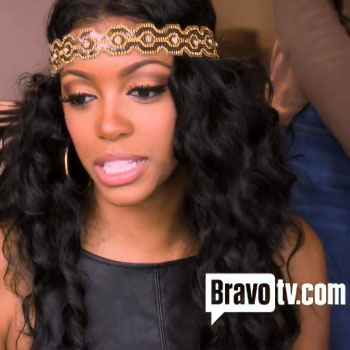 Her husband kept her in a gilded cage, and now The Real Housewives of Atlanta princess Porsha Stewart is showing she can't leave her mom's cozy nest!
As RadarOnline.com's video preview of this Sunday's episode reveals, not only does mom Diane spoil her, Porsha wants to live in the style she's accustomed to.
Porsha, whose nasty divorce from former football player husband Kordell Stewart has held center stage on RHOA this season, is shopping for a condo during the episode.
Article continues below advertisement
And pampered Porsha, who has been living with her mother during the divorce, turns up her pretty nose at the $4,500 a month condo's closets.
"These closets are way too teeny tiny," the housewife sighs to the cameras after touring the place with a real estate agent.
Speaking of herself in the third person, she adds, "My mom's closets are huge and fit all of Porsha's fashions just fine."
She also moaned to Diane and sister Lauren, "Where am I going to put all these clothes I have?"
Meanwhile, her mom wondered who was going to make Porsha pancakes if she moved out of her house!
Porsha concludes on the episode that she might not be ready to live by herself just yet.
"This is a big jump," she says.
And looking at the condo with panoramic Atlanta city views makes Porsha truly realize, "Wow, you're single again!"