RHONJ Reunion Rumble: Caroline Manzo Slams Teresa Giudice's Financial Scandal: 'She Likes Nice Things'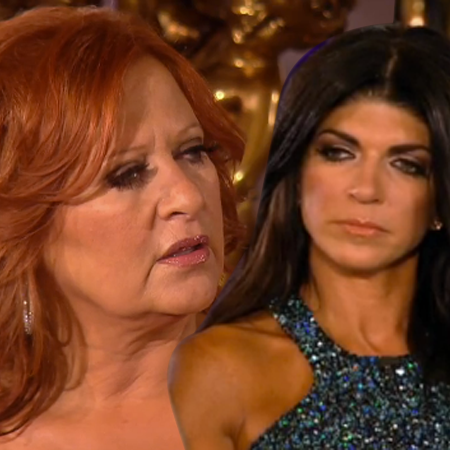 Caroline Manzo, who is leaving The Real Housewives of New Jersey for her own Bravo spinoff show, gave frenemy Teresa Giudice the mother of all parting shots during Sunday night's reunion show finale.
When Bravo host Andy Cohen asked Caroline if Teresa had caused the Giudice financial scandal--in which she and her husband Joe are accused of 39 counts of fraud--the Manzo family matriarch slammed her co-staring, sniffing that "Teresa likes nice things. Teresa's not going to deny that she likes nice things."
Article continues below advertisement
Teresa interjected, "And who doesn't? You like nice things--we all nice things."
But Caroline continued to run her reality TV co-star down, saying to Juicy Joe, "Remember you were teasing her, Joe, when you had her in the apartment above the pizzaria? She's like, 'I'm not going to live there. I'm not going to live in a used house.
"That doesn't make her evil. That's her thing. He's a man doing what every man does--try to make his wife happy," she said.
A visibly angry Teresa told Caroline, "But I also work--very hard."
Caroline replied, "Don't make an argument out of this!"
She told Andy, "My point is, as far as all these legal issues, it's not for me to decide or even investigate because it's awful. I don't like to talk about it."
Oh, yeah?! Strangely, Caroline praised Juicy Joe, talking about "the human being that I used to know and love that would come over with cigars, a jug of wine, and homemade sausage and just get blasted in the basement playing cards and laugh 'til you fall over."
Article continues below advertisement
And at the end of the show, as RadarOnline.com previously previewed, Caroline went postal on Teresa after the Giudice diva said Caroline had hurt her feelings.
Caroline said, "Thirty seconds of time you are harping on! I become garbage!
"Boom! Caroline! Between the eyes!" Caroline said, mimicking Teresa shooting her. "I don't consider you an enemy. I cannot believe what I just heard."
She didn't know if she could continue friendship with Teresa.
But it might not matter. As RadarOnline.com has already reported, Caroline is leaving the Jersey crew after five seasons and getting her own show, Manzo'd With Children, which will deal with her family life.
So it was probably no accident that Bravo focused on the fiery star, as Andy questioned her about her husband Al Manzo's father, who -- it was alleged on a RHONJ scene this season -- was emotionally abusive to him.
Article continues below advertisement
Caroline told Andy about Tiny Manzo, who did things like making young Al shovel snow with a tablespoon, "When he was bad, he was extreme. There has to be some scars there."
While there has been speculation about Tiny's 1983 death being tied to the Mafia, Caroline snapped, "I get very offended when people suggest we're part of that world.
"I live with a man who works like an animal. He earns a good, decent living. I will go to war to anybody that's going to try to besmudge his name."
"We don't know to this day. We don't want to know," she said of Al's father's death.
"It is certainly suspect."
Caroline called her father-in-law's untimely death the worst moment of her life.
"I don't want to go back there," she shuddered.
"I remember the doorbell ringing at 4:30 in the morning and having to wake my then-fiance up and say the police are here they found your father -- on my birthday. And to have my fiance and go pick up my birthday present and come back and apologize to me for ruining my day.
Article continues below advertisement
"And whoever doesn't understand it, go f*** themselves!"
While Caroline seemed to take a tough love approach to Teresa and Joe's legal problems, others in the cast got teary-eyed about the scandal.
"I think about how scary it is. I just can't imagine. Teresa's the strongest woman I know. I know she's gotta be scared," a sobbing Jacqueline Laurita said about her friend.
"I told her I'm here for her," she said about the possibility that Teresa might have to parent four kids alone if only Joe goes to prison.
Article continues below advertisement
"I wanted my brother to hear it from me. He said, 'I'm here for you,' " Teresa shared.
Joe Gorga recalled that he and Melissa took the Giudice daughters out and he comforted Gabriella. "She was like under my shoulder. She just leaned on me the entire night. I look over and see Melissa crying. I started crying. You never want to see your family go through something like this."
Asked about the possibility of taking care of the Giudice kids if Joe and Teresa get jail time, Melissa replied, "If she ever asks us to, of course."
Joe Gorga said, "I would be there in a heartbeat."
But he admitted he couldn't call brother-in-law, Juicy Joe, after the news broke.
"I didn't know if he wanted to hear from me. I couldn't make that call," Gorga said.
Melissa sobbed, "I'm sad for the girls."
Also on the reunion show, Melissa apologized for implying that Juicy Joe had cheated on Teresa.
And Juicy said he used the c word on Teresa--but it's now out of his vocabulary.
"I had a lot going on back home," Juicy shrugged of the infamous moment caught on camera.
The scandal-plagued Joe said about an earlier legal issue that he got his driver's license back, but isn't sure about his next court date.
As far as the more serious financial hot water, Juicy said, "I feel for my kids, I feel for my family."