'RHONY' Premiere! Ramona Singer Threatens Aviva Drescher: 'You're Lucky I'm Not Stabbing You With A Knife'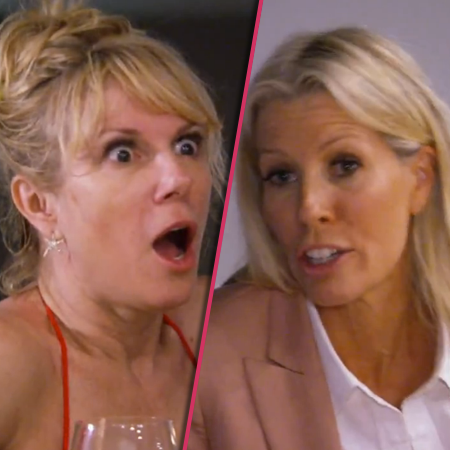 The Real Housewives of New York returned for its' sixth season on Tuesday night and was already full of Pinot, boy toys and a new housewife!
During the premiere, Ramona Singer and her "sworn enemy" Aviva Drescher had the first epic catfight of the season, after Aviva started ruffling feathers while trying to quash the feud with Ramona, grabbing her away from her husband to make amends.
"I want to give you a hug, if you'll receive it," Aviva said, but Ramona wasn't feeling that.
Article continues below advertisement
How Housewives Stars Go From Home To Hot – See The Photos
"Aviva wants a hug? Are you kidding me?" Ramona said. "You're lucky I'm not stabbing you with a knife."
Despite the throw down, Aviva later begged Ramona to meet up – hoping to bury the hatchet by downing tequila shots.
"Wanna do a shot of tequila?" Aviva asked, after having begged Ramona to meet her in order to reconcile.
"Is this your first shot?" Ramona replied.
"I feel like I'm losing my virginity," Aviva laughed, adding, "Not that bad … I've swallowed much worse."
Noting that Aviva doesn't really drink that much, Ramona admitted: "I don't know what Aviva's trying to do, what she's trying to pull -- she's sucking up my a--!"
Later, Sonja Morgan debuted her very young boyfriend she calls "Big Ben."
"I went from 80 to 20 in six seconds," Morgan, 50, joked about the age of her ex compared to her new boy toy.
Article continues below advertisement
Carole Radziwill added, "I didn't know if she was dating him or adopting him."
Next, the ladies met the newest cast member, model and mother Kristen Taekman.
"I'm not the sharpest tool in the shed, but I'm pretty" Taekman said.
"Not only is she tall and pretty, but she's weird," Radziwill said. "That's the hat trick for me."
Later, Taekman brought the drama when her hubby, Josh, arrived late for dinner.
"Do you know how embarrassing it is to sit in a crowded restaurant by yourself?" she asked her husband, who apologized and said he couldn't catch a cab.
"I want to honor you for all the great things you do as a mother and wife," he said, to which she offered, "It's so fake and phony," before he surprised her by pulling out a gift of earrings.
"You get an act of oral sex for these," she joked. "Josh and I are so in love … we bicker and fight and then make up."