Megyn VS. Maddow! Rachel To Seize 'Today' After Kelly's Sunday Program Flops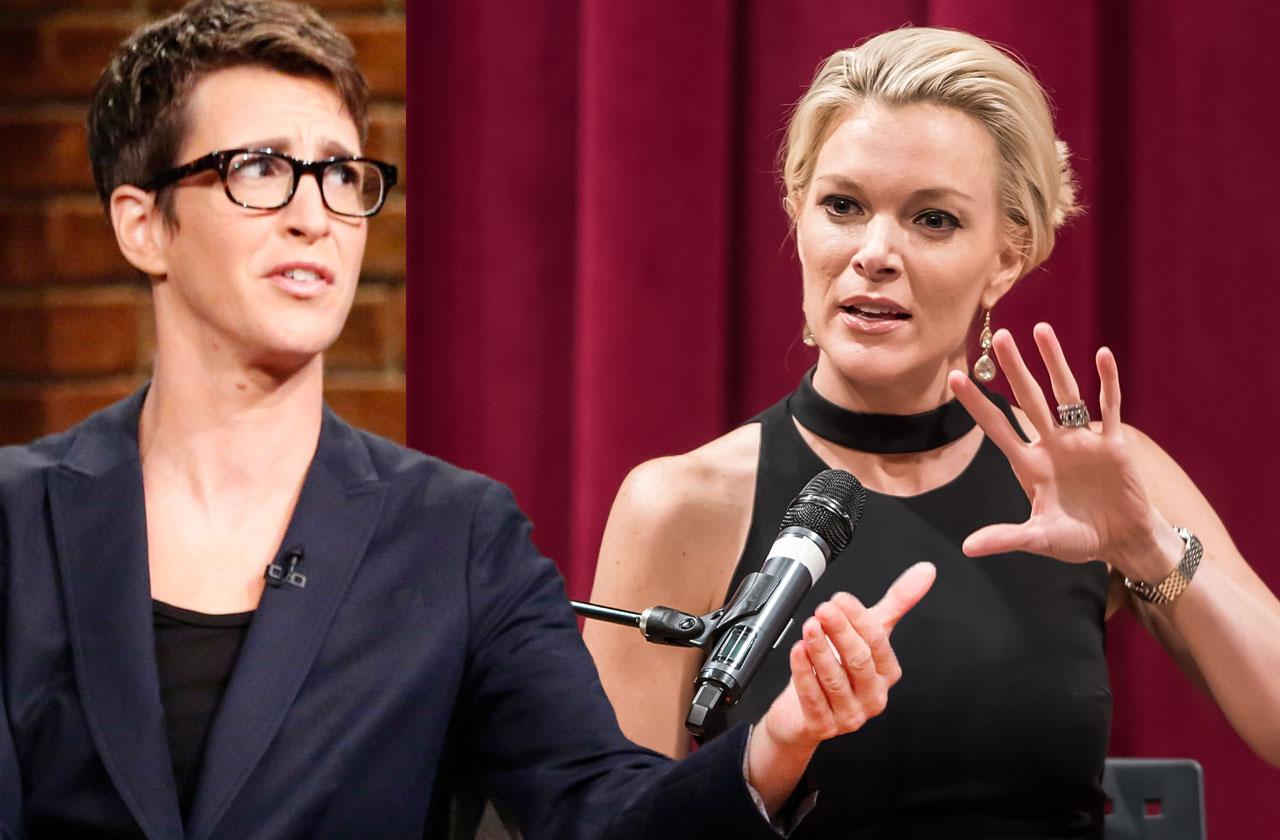 Humiliated NBC flameout Megyn Kelly is trapped in a fight-or-flight showdown with her corporate nemesis — MSNBC's Rachel Maddow, a television insider spilled to RadarOnline.com exclusively. The TV divas are locked in a feud to seize the Today show's third hour, but after Kelly's Sunday program bombed, the overpaid smack-talker should just surrender!
"Rachel is NBC's new golden girl! She can do no wrong, and the bosses have big plans for her future, including adding her to the morning show...Talent moves from one flavor of the month to a new flavor very quickly at the Peacock Network," Radar's snitch squealed, adding, "Once it was Ryan Seacrest, and then it was Willie Geist. Most recently, it was Megyn. But after her prime-time Sunday show tanked in the ratings, they've moved on to Rachel."
Article continues below advertisement
Another behind-the-scenes mole added: "Expect Today to introduce Rachel slowly — putting her on once or twice a week, and then increasing her role until she's a full-time member of the Today family."
The plan will surely upst Kelly, 46, according to Radar's snitch, but Maddow, 44, only needs to worry about one person — control freak Today host Matt Lauer. "If Matt likes Rachel, she'll be fine. The Today show has an audience of one — Matt!" dished the source.
The information also reveals that Maddow was deeply envious of Kelly's fat $17 million contract at NBC.
Especially since after both Megyn and Greta Van Susteren left FOX News, "The Rachel Maddow Show" host became one of the last women with a prime-time news gig.
Another source added: "Rachel is very jealous of Megyn and the mountain of money that she's making. She really felt underpaid and left out!"
Article continues below advertisement
Now, Maddow is ready for a face-off with Kelly after her MSNBC show trounced cable competitors "The Five" on Fox News and CNN's Anderson Cooper in the July ratings.
Meanwhile, Kelly's bleak blather on Sunday night routinely shed viewers every week since its pitiful June debut — even losing to reruns of America's Funniest Home Videos!
Megyn's woeful showing forced NBC to end the initial run of "Sunday Night with Megyn Kelly" at least two episodes earlier than planned, a source tattled.
Now our source predict Megyn, a married mother-of-three, and Rachel, who's wed to her longtime female partner, are sharpening their knives. "There are a lot of skeletons in Megyn's closet, but nobody believes Rachel is squeaky-clean either," snitched the insider.
"If they want to play dirty and destroy each other's reputations, they can. But once the credits roll, their fate lies with the viewers — and the ratings!"
We pay for juicy info! Do you have a story for RadarOnline.com? Email us at tips@radaronline.com, or call us at 800-344-9598 any time, day or night.