That Blows! 'Teen Mom' Turned Porn Star Farrah Abraham Releases New Single, 'Blowin,' To Attack Her Haters — Listen To It Here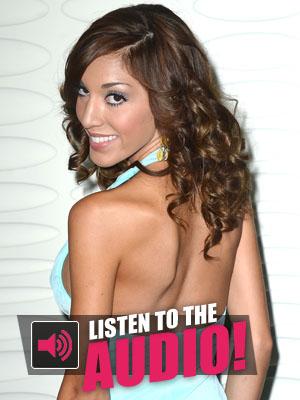 Farrah Abraham is releasing a new single--to attack her haters!
The Teen Mom turned porn star, who has recorded music before, has a new song called "Blowin," coming out, In Touch first reported.
While the title of the tune, with its sexual connotation, is sure to make Abraham a target again, she has claimed it's actually about how she'll blow bullies away!
The techno pop song features heavily Auto Tuned vocals and lyrics that are hard to make out over the loud beat.
Article continues below advertisement
But it features the chorus "I'm blowin' all these bullies away" in a clear message to those who hate Abraham to back off!
"I think of all of the 'bully' types I deal with… who are determined to be against me in my life," Abraham explained to In Touch.
"I want others to see they don't need to be a follower or conform to what others think or do and let them live their lives to their full potential. I feel that to overcome the gravity of the negativity, bullies try to portray on others, we really need our own space and focus to leave all of that behind and clear the negativity."
Article continues below advertisement
The mother of a daughter, Sophia, 5, Abraham previously released the song "My Teenage Dream Ended" to coincide with the release of her 2012 autobiography, and critics were harsh.
Still, she's trying a musical career again and is claiming Sophia will learn from her new song.
"I think the single 'Blowin' reminds others of that great potential in an upbeat song," she told In Touch. "I also want my daughter to be better than all the gossip and negative people when she gets older and Sophia really likes the song and dances to it as much as she can."
Abraham, who recently appeared on VH1's Couples Therapy, was inspired by her new hometown of Austin, Texas in making her music video, she told In Touch.
She said the city helps her "lead a stress-free, anti-bully lifestyle" and was able to feature tweets and Facebook posts that show what kind of messages she receives.
"I wouldn't be anywhere without Austin, Texas, bullies and my supporters and I feel I showed that in 'Blowin,'" the reality star said.