Caught On Tape! Video Of 'Stranded' Pilot Whale At SeaWorld Causes Uproar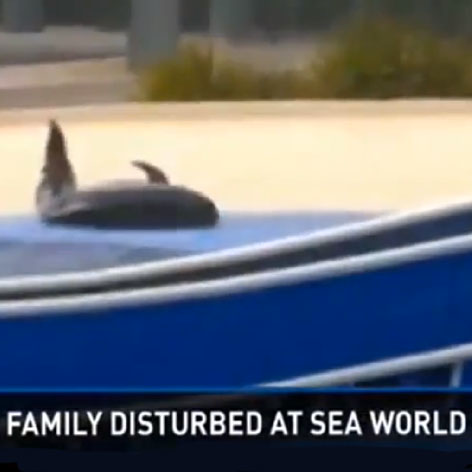 Video of a pilot whale, seemingly stranded out of the water on the edge of its pool, has gone viral and has caused an uproar from animal lovers who are demanding answers from SeaWorld.
The incident was caught on video by Carlo de Leonibus, who with his wife, Ashley, had taken their dolphin-loving daughter to SeaWorld in Orlando. They were celebrating Catiana's 11th birthday.
It had started to rain and there was lightning so the trainers interrupted the show to take shelter while the animals remained in their pool and the audience in their under-cover seats.
Article continues below advertisement
That's when de Leonibus and hundreds of others noticed that one of the pilot whales -- a member of the dolphin family -- appeared stuck on a ledge.
"The crowd was in a rage, in an uproar. Some of them were stomping their feet," he told Tampa's WTSP.
Other pilot whales approached the one on the ledge, appearing to try to help it. This occurred numerous times as the audience became more agitated.
On de Leonibus' video, the crowd can be heard shouting and stamping their feet. Children were crying as the pilot whale appeared to thrash about, turning itself from side to side in what the spectators took to be an effort to get itself back in the water.
Nearly 20 minutes passed before two trainers came out and pushed the pilot whale back in.
"The animal was never in danger," SeaWorld said in a statement after the video went public. The rep insisted the pilot whales often end up on the ledge and seem to enjoy it but that some of the "younger and more inexperienced animals - like the one on the video - sometimes take a little longer, because they haven't completely mastered the technique yet."
Article continues below advertisement
That wasn't good enough for little Catiana.
PHOTO: Check Out Joanna Krupa's Hilarious And Fully Uncensored PETA Ad
"She was heartbroken. She was crying at night. She was really upset. She felt that SeaWorld was going to take care of their animals," her dad told WTSP.
The video has had thousands of views and is causing a new headache for SeaWorld, now under attack in the new documentary Blackfish about how the park's killer whales are kept and trained.
youtube=https://www.youtube.com/watch?v=OnQSFnfV00A&w=560&h=315